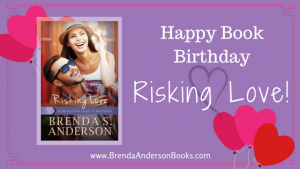 The celebration continues! Thank you to all who stopped by my blog yesterday to party with me. In case you weren't able to visit yesterday, I've thrown together a few additional Berry Cheesecake parfaits. Trust me, they're not only delicious, but they're healthy! For the recipe, go here. The book giveaway goes until October 10 at midnight. If you haven't entered, fill in the Rafflecopter form below.
This 'n That
My hero, Caleb Johnson, was interviewed at the WordSowers blog yesterday. Find out more about him here.
Today, I'm spotlighted on the WordSowers site: https://wordsowers.com/author-showcase-brenda-s-anderson/.
I'm also visiting Sarah Ruut's Fiction, Faith, and Fun blog today, and am offering a paperback giveaway! https://sarahruut.com/2016/10/05/risking-love-meet-brenda-anderson-giveaway/
Want to read the scene where my hero meets/saves my heroine? Shannon Taylor Vannatter shares that on her Inkslinger blog here. And if you comment on that blog post, you'll be entered to win an ebook copy of Risking Love.
I've received several very gracious blog reviews of Risking Love so far. Check these out:
If you haven't seen this beautiful trailer created by John Martin Keith at Edenbrooke Productions, check it out. He even composed the music especially for Risking Love! How cool is that?!
And lastly, if you haven't yet purchased Risking Love, you can do so at any of the following links:
Paperback
eBook
Amazon | Barnes & Noble | iTunes | Kobo | 24 Symbols | Inktera
Want a chance to win an autographed paperback copy of Risking Love? Fill in the Rafflecopter below.
a Rafflecopter giveaway