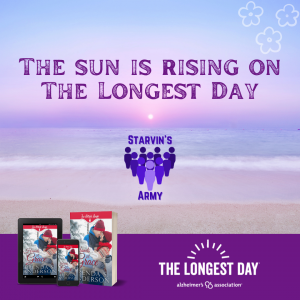 On June 21, the longest day of the year, you can Shine Your Light on the Darkness of Alzheimer's. For this month, I will donate 100% of my profits from the sale of Hands of Grace (during June 2023) to the Alzheimer's Association.
Today, an estimated 50 million people worldwide are living with Alzheimer's or other dementias, including more than 6 million Americans. In the United States alone, more than 11 million friends and family members are providing their care. We must take action now, or these numbers will continue to rise.
Stand up to the darkness of Alzheimer's and purchase a book and/or make a donation today to help the Alzheimer's Association support all those facing the disease. Direct donations are also very welcome. Thank you!
Purchase Hands of Grace: Amazon | Barnes & Noble | Books-A-Million | IndieBound
Or donate directly to The Alzheimer's Association: http://act.alz.org/goto/StarvinsArmyCaptain
About Hands of Grace ~
She's always looked for love in the wrong places. He wants nothing to do with love.
Rita Dunlap has a history of looking for love in the wrong places, but this time, she's got it right. Her heart surgeon boyfriend has hinted at proposing, along with letting her sickly mother live with them once they're married.
But then she learns her boyfriend isn't a doctor at all, but a drug trafficker who's involved her in his scheme. Not only did she get love wrong, but she's unwittingly placed both her and her mother's lives in danger.
Love is the last thing on Officer Daniel Winter's mind. Twice-burned, he's locked up his heart for good. But when he goes undercover as a handyman to protect the cute and quirky Rita Dunlap, he discovers he's not only guarding her and her mother, but his heart as well.
Rita wants to trust Daniel, wants to believe his work around her house doesn't come with a price, but she'll need to let go of her past mistakes to open her heart to the future.
Amazon | Barnes & Noble | Books-A-Million | Book Depository | IndieBound