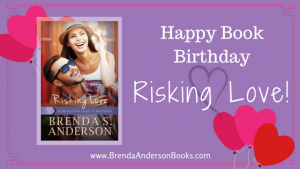 Congratulations Wendy Huddler for winning the Risking Love Book Birthday package!!!
And Thank You to everyone who stopped by and helped me celebrate!
Woo hoo! So excited to celebrate Risking Love's book birthday! As of today, you can download the ebook and/or order the paperback from several sites. For those of you who pre-ordered, the book should have arrived on your Kindle this morning. And there's a special surprise at the end of the paperback and ebook: a sneak peek at the book cover for Capturing Beauty, the second book in my Where the Heart Is series.
If you haven't ordered Risking Love yet, here are all the links:
Paperback
eBook
Amazon | B&N | iTunes | Kobo | 24Symbols
Now let's get down to celebrating! I have cake, of course, chosen specifically by my heroine, Lissa: Berry Cheesecake Dessert. Here's the recipe for this easy-to-make, delicious, and healthy treat:
Makes 2 servings
Prep: 15 minutes
Chill: 4 to 24 hours
Ingredients
1/4 of an 8-ounce tub (1/4 cup) fat-free cream cheese
1/4 cup light ricotta cheese
1 tablespoon sugar
1/4 teaspoon finely shredded orange peel
2 teaspoons orange juice
1-1/2 cups fresh raspberries, blueberries, and/or sliced strawberries
2 crumbled gingersnaps or chocolate wafer cookies (optional)
Fresh mint (optional)
Directions
In a medium bowl, combine cream cheese, ricotta cheese, sugar, orange peel, and orange juice. Using an electric mixer, beat on medium speed until smooth. Cover and chill for 4 to 24 hours.
Divide cream cheese mixture between two parfait or dessert dishes and top with berries. If desired, sprinkle with broken cookies and garnish with mint.
Sounds delectable, doesn't it? And it's only 109 calories per serving!
And what's a birthday celebration without a giveaway? One lucky commenter will win a gift package that includes an autographed paperback copy of Risking Love, a book of hearty-healthy recipes, a Go Red for Women lapel pin, plus other surprise goodies. To enter, fill in the Rafflecopter form below.
She holds the key to his heart. And his home.
Can she risk falling for a man whose home she may have to take away?
Bank employee Lissa Morgan likes all the columns of her life to add up. From her job to romance, every major decision is planned out. But before she can go out on a date with Mr. Perfect, she attends a charity auction with her meddling mom who wins Lissa a date with thrill-seeker Caleb Johnson.
Caleb lived for adventure until heart disease stole his wife's life. Then debt closed his business and now threatens to take his home. With a toddler to raise, he vows that his risk-taking days are over. But then he meets the cautious yet curious Lissa Morgan and decides it's time to take one more risk—this time on love.
When Lissa learns the extent of Caleb's debt, she wonders if she can collect on his heart if she forecloses on his home. And why is she falling for the wrong man—one who challenges her to leap from her orderly life and into his waiting arms?