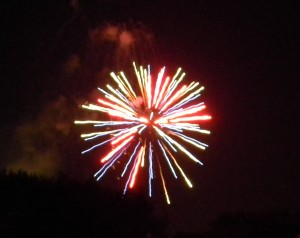 Years ago when my husband and I first began dating, he introduced me to Music in Plymouth. It's a fun and free outdoor celebration in honor of our country's freedom. It offers an evening of fun, food, and music, culminating in a concert by the Minnesota Orchestra and then fireworks.
The event is sponsored by the City of Plymouth, Minnesota and is held at the Hilde Performance Center–an open air stage. In my estimation, it's the best free event in the Twin Cities.
It's also a terrific setting to use in a novel. Hopefully, someday you'll read about it. 🙂
The festivities officially begin around 5 p.m., but guests begin staking out their spots close to the stage early in the day. Our family usually arrives between five and six, cooler in tow, which gives us plenty of time to enjoy an evening of music and other activities. Oh, and I can't forget to mention all the food vendors either. There's no excuse to leave hungry.
If you're in the area next year, I encourage you to try it out. You'll likely make it an annual event. I can't think of a better way to celebrate Independence Day.
Go to https://MusicInPlymouth.org to learn more.
2012 Event Schedule:
5:00 PM
Welcome
5:15-6:00 PM
451st Army Reserve Band
6:00-6:15 PM
Heart of the Beast Puppet & Mask Theater
6:15-7:00 PM
Scottie Miller
7:00-7:15 PM
WWII aircraft air show
7:15-8:15 PM
R-Factor (formerly Rupert's Orchestra)
8:15-8:45 PM
40th Anniversary retrospective & announcements
8:45-9:45 PM
Minnesota Orchestra
9:50-10:00 PM
Funtime Funktions Fireshow
10:00 PM
Fireworks