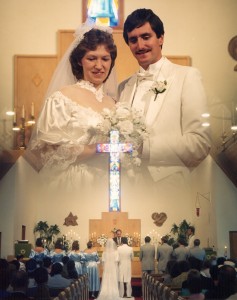 Twenty-five years ago today at 3:32 pm in Zion Lutheran Church in Annandale, Minnesota, Pr. John Temple said those famous words to Marvin and me, "I now pronounce you husband and wife."
And then I aimed for the escape of the aisle (I really don't like being the center of attention) completely forgetting the "kiss" part … but Marvin remembered. 😉
And now 25 years and three children later the man who has been my partner in joy, pain, trials, fun, faith, doubt, and many more everyday moments is still the love of my life.
He's my biggest cheerleader and my best friend. He's the family provider and a teaching father who has the gentlest heart. I'm forever grateful that God blessed me with my amazing life partner!
I don't forget the "kiss" part anymore.
I love you Marvin!