Welcome to the inaugural Book Talk Tuesday! I'm so glad you've stopped by today. Hopefully, we'll visit on a weekly basis.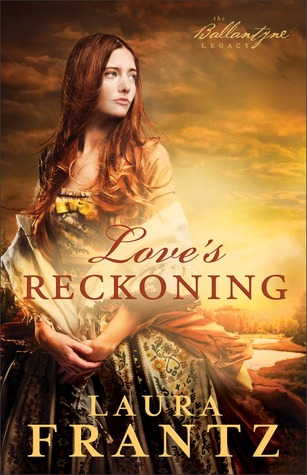 I can't think of a better way to jump start Book Talk Tuesday than by recommending Love's Reckoning (Revell Books, 432 pages, September scheduled release), an historical romance written by one of my all-time favorite authors, Laura Frantz.
To pique your interest even more, I'm giving away a copy of Love's Reckoning to one lucky commenter. Leave a comment telling me why you'd love to read Love's Reckoning, and your name will go into a drawing. Contest closes Sunday, August 26 at midnight and the winner will be announced on Monday, August 27.
Now, about the book–here's the description from Revell Books:
On a bitter December day in 1784, Silas Ballantyne arrives at the door of blacksmith Liege Lee in York County, Pennsylvania. Silas is determined to finish his apprenticeship quickly and move west. But because he is a fast worker and a superb craftsman, Liege endeavors to keep him in York by appealing to an old tradition: the apprentice shall marry one of his master's beautiful daughters.
Eden is as gentle and fresh as Elspeth is high-spirited and cunning. But are they truly who they appear to be? In a house laced with secrets, each sister seeks to secure her future. Which one will claim Silas's heart–and will he agree to Liege's arrangement?
In this sweeping family saga, one man's choices in love and work, in friends and enemies, set the stage for generations to come. This is the Ballantyne Legacy.
My take:
Laura Frantz has once again proven why she's one of my favorite authors. She's a gifted storyteller who weaves an intriguing plot–one that's far from cookie-cutter–with multi-faceted characters and vivid descriptions. Her pages scream to be turned …
But, when I rush to find out what's happening next, I miss out. I love Laura's lyrical, literary voice. Her prose is some of the best I've read, across genre. For her, the cadence and timbre of words and sentences is just as important as the story told. When reading a Laura Frantz novel, I want to savor it like I would a Handel symphony.
So if you delight in reading unpredictable stories written with fine prose, you'll relish Love's Reckoning. The only bad thing I have to say is that I have to wait another year for her next novel.
Love's Reckoning is the first in the four-book Ballantyne Legacy series. The series spans 100 years and four generations of the Ballantyne Family.
I received a complimentary copy of Love's Reckoning from Revell Books. Giving a positive review was not required, but it was easy.