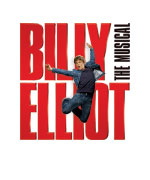 My daughter has loved Billy Elliot the Musical since she first saw it on Broadway a few years back, so when I had the opportunity to get tickets to the production at the Ordway in St. Paul, there was no doubting who would accompany me.
We weren't disappointed.
If you're not familiar with Billy Elliot, it's about a preteen who manages to stumble from boxing lessons into ballet class and learns he loves it, much to the mortification of his coal-mining father and brother. The musical is set in 1984 Northern England at the time of the coal miners strike, a strike that nearly caused civil war within the country.
It's a play about family and work and following your dreams. While Billy's father, brother, and townspeople initially mock Billy (played by Noah Parets on October 9) for his love of ballet, eventually they all get behind him and are even inspired by his talent and drive. His heart.
And the heart of this musical is especially evident in Billy's dance numbers. His rage screams out in "Angry Dance", a response to his family refusing to let him audition for the Royal Ballet School. His "Electricity" number brought tears to the audience's eyes as Billy poured out how dancing inspired him. Anyone who has a gift, a dream, be it a writer, businessman, or farmer can relate to the lyrics: Electricity Lyrics.
Other poignant moments occur when Billy's deceased mother appears and sings out her love letter to him ("Dear Billy" – Mum's Letter) and when Billy sings his love letter back to her ("Dear Billy" – Billy's Reply).
If you're looking for a production that offers phenomenal dancing and fantastic vocals, give Billy Elliot a try. You will not be disappointed.
Billy Elliot the Musical plays through October 14 at the Ordway. Click <here> to purchase tickets. It continues its tour around the United States. Check if Billy Elliot is coming to your area <here>.
*This musical is not recommended for younger children due to course language and violent situations.