*For Book Giveaway – Read post then see details below*
It's no secret that I'm a picky reader. For me to completely enjoy a novel, it has to have the perfect storm of intelligent prose, believable dialogue, intriguing story, authentic characters, and a satisfying–does not equate to happy–ending. So far in 2012 I've read 111 books and of those only six have merited Favorite status, three of which I read in September.
If you're looking for challenging reads, novels that aren't a Xeroxed rendition of another, then I recommend these three: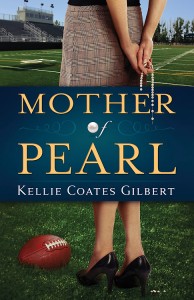 MOTHER OF PEARL by Kellie Coates Gilbert (Abingdon Press)
Admittedly, I avoided this novel at first because of the cover. To me it screamed Chick Lit and humor, but the back cover copy intrigued me enough (but didn't give spoilers! Yeah!) to turn past the cover. I'm so glad I did. Debut author Kellie Coates Gilbert deftly handles a difficult subject with sensitivity, but does not stray from reality. You will not find any perfect Christians in this book, just real, broken, people that we all can relate to.
Story Description:
     Barrie Graeber has two great kids, a loving husband, and a respected job as the high school counselor in her close-knit community. Without warning, everything unravels when her teenage daughter, Pearl, is betrayed by friends and lashes out.

     Nothing prepares this mother for the helplessness that follows when her attempts to steer her daughter back on course fail and Pearl shuts her out . . . or when she discovers the unthinkable about her nemesis, the football coach.

     Emotionally riveting and profoundly moving, Mother of Pearl brings us into the heart of a mother bound by an incredible burden, who ultimately finds she must recognize her own vulnerability and learn to trust in something much bigger.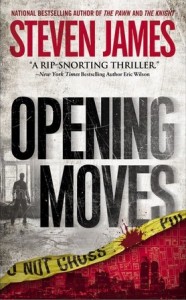 OPENING MOVES by Steven James (Signet Select)
It's no surprise that Steven James' latest novel is on my Favorites list–his books usually are. As a matter of fact, Opening Moves has become my favorite Steven James novel. Period. It's not an easy read, nor an enjoyable read. His subject matter is macabre, made worse by the fact that he includes true stories among his made-up story. It gives you the chills thinking about what people are capable of. In typical James' fashion, the novel is a page-turner filled with many unsuspected twists. But it does get you thinking about the fallen state of man and makes you consider the evil within yourself. When you read this, just make sure you're not alone.
Story Description:
     Milwaukee, 1997. In a city reeling from the crimes of Jeffrey Dahmer, a series of gruesome kidnappings and mutilations draw authorities into a case like nothing they've ever seen. Cops think a Dahmer copycat is on the loose.

     But Patrick Bowers, working as a homicide detective, suspects this is more than an ode to the infamous cannibal. When he discovers that the shocking acts reference some of the most notorious and macabre killers in our nation's history, the investigation spirals into a nightmare of manipulation, brutality, and terror.

     Wielding groundbreaking investigative techniques, Bowers must now face off with a killer who will stop at nothing to get his message out to the world. Chilling, gritty, and packed with twists and turns, Opening Moves is Steven James's most heart-pounding novel yet.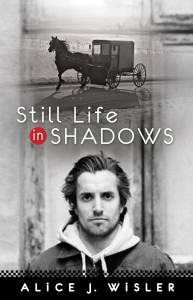 STILL LIFE IN SHADOWS by Alice Wisler (River North)
This is another novel I avoided because of the cover. While buggies and bonnets are widely popular, when I see them on a cover, I stay far away. They're just not my preferred type of reading. But, the fact that Alice Wisler's name was attached to this book finally got me to turn past the cover, and I wasn't disappointed.
Yes, this book is about an Amish man, but it's told from the perspective of someone who ran away from the Amish life and now helps others relocate as well. While Wisler doesn't condemn the Amish, she doesn't glorify them either. The story comes off as very real.
This novel is proof that excellent writing transcends genre. If you don't typically read bonnet and buggy books, don't let the cover keep you away, or you will miss a great story.
Story Description:
     It's been fifteen years since Gideon Miller ran away from his Amish community in Carlisle, Pennsylvania as a boy of fifteen.  Gideon arrives in the Smoky Mountains town of Twin Branches and settles in at the local auto mechanic's garage. He meets a host of interesting characters -the most recent acquaintances are Kiki, an autistic teen, and her sister Mari. Known as the "Getaway Savior" he helps other Amish boys and girls relocate to life in modern America.

     One day the phone rings. On the other end is his brother Moriah calling from Florida. Of course Gideon welcomes his brother to stay with him and offers him a job. But Moriah is caught in a web which ends in his death and forces Gideon to return to the town of his youth, with his brother's body in the back of a hearse and Mari and Kiki at his side. He must face not only the community he ran away from years ago but also his own web of bitterness. Will he be able to give his anger over to God and forgive his father?
BOOK GIVEAWAY
I will be giving away (1) copy of MOTHER OF PEARL. To enter, it would be super nice if you'd subscribe to my blog <here>, but I won't make you. 😉 So, what do you need to do? In the comments below, I'd like to know what book (Title and Author) you have  last marked Favorite and why. This contest closes on Sunday, October 21 at 11:59 pm CST and the winner will be announced on Monday, October 22.
This giveaway is listed at FictionAddictionFix.blogspot.com. For more book giveaways or to advertise your own book giveaway, click the sparkly banner below: