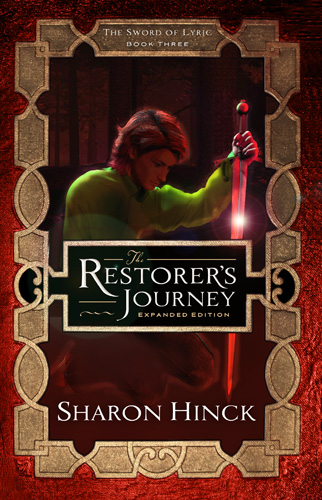 One of the sweetest benefits of being a writer is getting to know other authors, and one of the dearest people I've met on my writing journey is Sharon Hinck. Not only is Sharon a gifted storyteller, but she also excels at teaching, mentoring other authors. I admire her joy for God and aspire toward that same joy. I'm blessed to call her friend.
Sharon is one of those enviable novelists who writes across genre and does them all very well. I'm so excited to tell you about her new release, The Restorer's Journey, Expanded Edition, Book 3 in the Sword of Lyric series (Marcher Lord Press). This is actually a re-release of the novel that won a Carol Award for speculative fiction back in 2009, but this release comes with 60 pages of new content. It includes deleted scenes, an alternate opening, bonus scenes, a devotion guide, links to audio and video extras, and more. So it's like reading a brand new story. 🙂
And if you're not typically a fantasy reader–I'm not–don't let that keep you away. This entire series seamlessly blends our world with the fantasy world and makes it all feel true. Give the series a try. You will not be disappointed.
ABOUT THE BOOK:
The Restorer's Journey-Expanded Edition by Sharon Hinck
His choices have the power to save or destroy.

With a loved one's life at stake, Jake charges through the portal into Lyric to stage a dramatic rescue, trusting that the signs that mark him as Restorer will guarantee success. But everything familiar in Lyric has vanished, swept away by deadly lies and a corrupt king. As inexorable forces conspire to turn him from his purpose, Jake finds his path leading to places beyond his courage.

While he confronts the temptation to flee his calling, Susan struggles in brutal captivity. Can she gain freedom before the enemy destroys her spirit, and will Jake choose to follow his destiny before everything is lost?
To purchase The Restorer's Journey-Expanded Edition (Marcher Lord Press), click <here>
Where to reach Sharon Hinck