If you're looking for intense thrillers/suspense/espionage/cop dramas, then have I've got titles for you! New novels by seasoned authors Vince Flynn and Michael Connelly, and a sophomore offering from M.K. Gilroy. To appease the appetites of the romance reader,  I do have one book to recommend for you too. Plus a book giveaway!
So, if you're making your Christmas list or if you're wondering what to get that reader in your life, hopefully I've got just the right suggestion.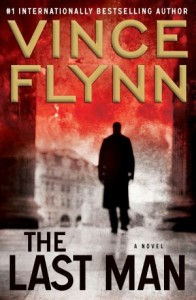 THE LAST MAN by Vince Flynn – I've been hooked on Vince Flynn's novels ever since my husband introduced me to Flynn's debut work, Term Limits. Flynn's famed protagonist, Mitch Rapp, was introduced a book later, and since then I anxiously await the next Rapp adventure. As usual, it comes out in November, just in time for Christmas and I always manage to secure a handful of autographed copies. (If you want an autographed copy, here's a link: https://www.vinceflynn.com/the-last-man-signed-edition.html. If you live in Minnesota, a number of Barnes and Nobles will carry signed books.) This book officially releases on Tuesday, November 13. I can't wait to pick mine up!
An invaluable CIA asset has gone missing, and with him, secrets that in the wrong hands could prove disastrous. The only question is: Can Mitch Rapp find him first?

Joe Rickman, head of CIA clandestine operations in Afghanistan, has been kidnapped and his four bodyguards executed in cold blood. But Mitch Rapp's experience and nose for the truth make him wonder if something even more sinister isn't afoot. Irene Kennedy, director of the CIA, has dispatched him to Afghanistan to find Rickman at all costs.

Rapp, however, isn't the only one looking for Rickman. The FBI is too, and it quickly becomes apparent that they're less concerned with finding Rickman than placing the blame on Rapp.

With CIA operations in crisis, Rapp must be as ruthless and deceitful as his enemies if he has any hope of finding Rickman and completing his mission. But with elements within his own government working against both him and American interests, will Rapp be stopped dead before he can succeed?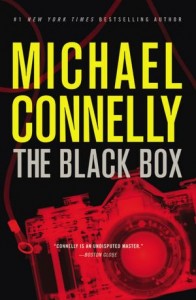 THE BLACK BOX (Harry Bosch) by Michael Connelly – I look forward to reading the next Harry Bosch novel almost as much as I anticipate reading about Mitch Rapp. Harry Bosch is your typical acerbic, cynical, LA Cop who has just enough heart to make us root for him. (US release, November 26)
In a case that spans 20 years, Harry Bosch links the bullet from a recent crime to a file from 1992, the killing of a young female photojournalist during the L.A. riots. Harry originally investigated the murder, but it was then handed off to the Riot Crimes Task Force and never solved. Now Bosch's ballistics match indicates that her death was not random violence, but something more personal, and connected to a deeper intrigue.

Like an investigator combing through the wreckage after a plane crash, Bosch searches for the "black box," the one piece of evidence that will pull the case together. Riveting and relentlessly paced, The Black Box leads Harry Bosch into one of his most fraught and perilous cases.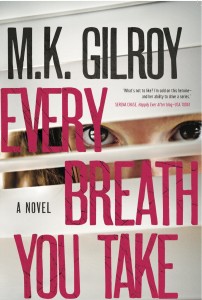 EVERY BREATH YOU TAKE by M.K. Gilroy – I'm in the middle of this book right now and hate to put it down. Gilroy introduced us to Chicago Detective Kristin Connor last year in the fascinating novel Cuts Like a Knife. Kristen is a sarcastic, brutally honest, tough cop with a big heart (though she tries not to show it). Her character reminds me of Sibella Giorello's FBI Special Agent Raleigh Harmon, so if you're fans of Giorello's Raleigh Harmon series, pick up Gilroy's novels.
A high-profile murder tied to an online dating service has the Chicago news media buzzing. Who better to go undercover in the world of personal profiles and promising matches than an ace detective who is single and as attractive as she is tough? Detective Kristen Conner can't figure out her own dating life, but she is about to get a crash course on finding true love – or at least a Friday night date – and become the object of a killer's affections.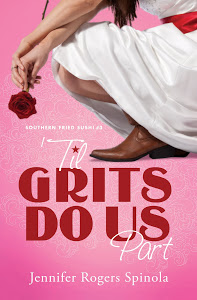 'TIL GRITS DO US PART by Jennifer Rogers Spinola – Okay, I had to throw in some lighter reading for those of you who don't enjoy heart-palpitating suspense. This is a book that should get your heart beating to a completely different tune, although this one sounds like it has its share of suspenseful moments. Jennifer Rogers Spinola introduced her fun and quirky protagonist Shiloh Jacobs two books ago in Southern Fried Sushi (I'm giving away a copy – see below). If you love light-hearted romance, pick up this series.
Shiloh Jacobs is planning her wedding without family, without money, and without a clue—and trying to make a go of small-town Southern life. Until she stumbles on an unsolved case about a missing woman that makes her run in the opposite direction—right into the would-be killer's web of plans. In the midst of sorting through her tragic past and strained relationships, Shiloh finds herself on the run from a madman—and hoping she can make it to her wedding alive.
 *** CONTEST ***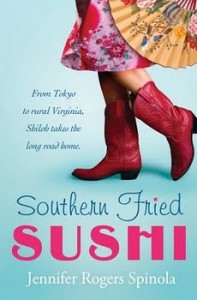 To enter to win a copy of Jennifer Rogers Spinola's Southern Fried Sushi, in the comments below I'd love to know what new release(s) you are anticipating reading (1 entry per person). Also, it would be super nice if you'd subscribe to my blog (subscribe to e-mail click <here>), but it's not a requirement. 🙂
This contest ends Sunday, November 11, 2012 at 11:59 pm CST. I will post the winner on November 12, 2012.
~*~*~
Find out about other book giveaways at FictionAddictionFix.blogspot.com!