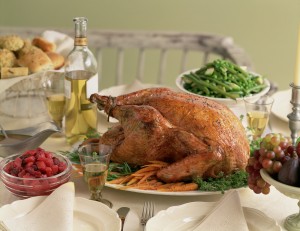 Yes, I know Thanksgiving is a week away, but let's face it, I'm not going to be blogging on Thanksgiving Day, and, chances are, you're not going to be reading blogs. I know I won't be.
As a matter of fact, I plan on taking a blogging break next week so I can focus on more important things, like family. 🙂
I'm blessed to be part of a large family. I have four brothers and two sisters. My parents have 21 grandchildren and 1 great-grandchild. Then, of course, you add six spouses, so when we all get together, it's a bit chaotic. I wouldn't want it any other way.
Next Thursday my parents are hosting whomever can make it. Even if only half the families show up, that's still a houseful of people. We'll have turkey and mashed potatoes and pumpkin pie and all the other trimmings, and we'll likely play a hand or two of Thirteen … while watching the football games, of course.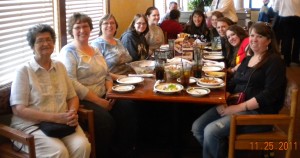 Then, on Friday, I admit I'm among the crazies who venture out, but this is an annual get-together event enjoyed with my mom, sisters, a sister-in-law, and now our daughters. The thing is, this day isn't really about shopping or spending money, it's about being together. We're at the mall by six a.m. usually, and are done by eight. (That's when the crowd  hits this mall.) We then hit a few more shops, depending upon what's on lists, then we go to lunch, often at Olive Garden. Spending time with all these special women is one of the greatest joys in my life!
How do you celebrate Thanksgiving? What do you look forward to the most?
After tomorrow's devotion, I'll be back for Book Talk Tuesday on November 27.