Those who know me, know I avoid cooking and baking unless absolutely necessary (which obviously happens at least once per day for the family). If the recipe calls for more than six ingredients, it's doubtful I'll make it. But, give me something easy, and I'll think about it.
Something like my Fudgies recipe. Not only is it easy, but it's can't-eat-just-one delicious–though highly caloric ;).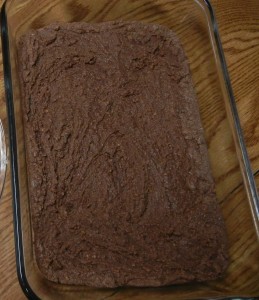 So, my Christmas present to you this year is my Fudgies recipe. Enjoy!
Indredients

:
2 cups sugar
1 cup evaporated milk
1 stick butter (the real stuff!)
1 cup chocolate chips
1 cup Graham cracker crumbs
3/4 cup flour
Directions

:
Combine sugar, evaporated milk, & butter. Cook over medium-high, stirring continuously, and heat till it reaches a rolling boil. Keep stirring and boil for 5 minutes. Remove from heat.
Stir in chocolate chips, then add Graham cracker crumbs and flour. Stir till well mixed, then spoon into a cake pan (I use a slightly smaller cake pan to make thicker pieces).
Refrigerate to harden.
Enjoy!
I've substituted white chocolate chips for the regular, and coconut for the Graham cracker crumbs, and that's even more delectable! Play with this recipe to see what combination works well for you. I'd love to hear your results!