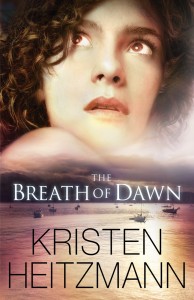 I recently read through Kristen Heitzmann's A Rush of Wings series, re-reading the first two books A Rush of Wings and The Still of Night. Back when these novels were first published, they set the standard for me that few authors have matched or even come close to. These are stories that yank at the heart and wrench your gut. You can't possibly read these books without being impacted emotionally. Heitzmann's characters are messy, complex, broken. Real. They're soul-baring and soul-awakening. Aside from Francine Rivers, no one does characterization better than Heitzmann at drawing the reader into the very marrow of the characters.
Admittedly, after re-reading the first two books, I was wary about picking up The Breath of Dawn. In The Still of Night, protagonist Morgan Spencer is dragged through an emotional ringer. I wasn't certain I wanted to travel that path with him again.
But I'm glad I did. Once I started reading, I couldn't stop. It was a joy revisiting the Spencer family. I loved watching Morgan interact with, love, and cherish his daughter, setting an example of how God must love us. I also appreciate how the romance between Morgan and Quinn grew organically without the eye-rolling moments that are ever-present in much romantic literature. But that's typical Heitzmann. She has a gift for writing romance in a way that doesn't come across as fairy tale, but authentic.
The Breath of Dawn did have some problems, though. One of the major plot twists didn't ring true to me. One particular choice–a major plot twist–the protagonist made seemed very out-of-character, and the remainder of the story hinged on that twist. Unfortunately, that put a damper on the rest of the novel, because I couldn't get past his choice. Also, I felt Quinn was an amalgamation of Noelle and Jill (previous loves of Morgan Spencer), combining elements of each of their back stories into one character. Don't know if that was intentional, but it slightly detracted from Quinn's story.
Still, I highly recommend this novel–this entire series–for anyone who loves to develop an intimacy with the characters when reading. When you put that final book down, you'll feel a part of the Spencer family and will want to spend much more time with them.
Story Description:
Morgan Spencer has had just about all he can take of life. Following the tragic death of his wife, Jill, he retreats to his brother's Rocky Mountain ranch to heal and focus on the care of his infant daughter, Olivia. Two years later, Morgan begins to make plans to return to his home in Santa Barbara to pick up the pieces of his life and career.
Quinn Riley has been avoiding her past for four years. Standing up for the truth has forced her into a life of fear and isolation. After a "chance" first meeting and a Thanksgiving snowstorm, Quinn is drawn into the Spencer family's warm and loving world, and she begins to believe she might find freedom in their friendship. But then the man Quinn put behind bars is released and she's afraid for everyone around her. Can she face her greatest fear or flee to find safety in anonymity?
Please stop back on Thursday for additional analysis of The Rush of Wings series.