The other day I searched for Easter fiction, novels that would add depth to the Lenten season. I was surprised at how few I found for adults, barely a handful (although there are many for children). Now, if I'd performed a search for Christmas novels, the results would have been entirely different.
I wonder why that is. I suppose the argument could be made that in the CBA we write about Easter all the time, after all Christ's resurrection is the reason for inspirational fiction. Still, I found very few novels that have an Easter backdrop, books that could enhance our Lenten experience. If you're like me, you learn more from a well-written novel than how-to books or devotionals. With fiction, you see the how-to's applied.
So if you're looking for a unique devotional experience this Easter, try one of the books below–my favorites–and accompany that with gospel readings. See if you don't take away something new this year.
For Adults:
ISCARIOT: A NOVEL OF JUDAS by Tosca Lee (Howard Books) – I finished this on Monday night, and I'm certain I'll be contemplating Iscariot for days. Tosca Lee delivers a completely fresh perspective of Judas Iscariot, the man who betrayed Jesus for a mere 30 pieces of silver. It's so easy for us to blame him, to pridefully tout that we wouldn't have done the same. Lee turns that thinking upside down as she portrays Judas as a passionate man, a man broken by family losses and guilt, someone who felt unworthy, unclean. Human. Someone just like you and me. As you read Judas' journey, it's easy to imagine yourself taking the very same path. Lee also paints a very real and close-up portrait of Jesus. This book is eye-opening, heart-breaking, and soul-stirring. You can not read it and come away unaffected. I'm certain I'll make reading Iscariot an annual Lenten event.
Story Description:
Acclaimed New York Times bestselling author Tosca Lee brilliantly adapts the life of Judas Iscariot into a dazzling work of fiction—humanizing the man whose very name is synonymous with betrayal.

Based on extensive research into the life and times of Judas Iscariot, this triumph of fiction storytelling by the author of Havah: The Story of Eve revisits one of biblical history's most maligned figures and brings the world he inhabited vividly to life.

In Jesus, Judas believes he has found the One—the promised Messiah and future king of the Jews, destined to overthrow Roman rule. Galvanized, he joins the Nazarene's followers, ready to enact the change he has waited for all his life. But soon Judas's vision of a nation free from Rome is crushed by the inexplicable actions of the Nazarene himself, who will not bow to social or religious convention—who seems, in the end, to even turn against his own people. At last, Judas must confront the fact that the master he loves is not the liberator he hoped for, but a man bent on a drastically different agenda.

Iscariot is the story of Judas, from his tumultuous childhood to his emergence as the man known to the world as the betrayer of Jesus. But even more, it is a singular and surprising view into the life of Jesus that forces us to reexamine everything we thought we knew about the most famous—and infamous—religious icons in history.
For Small Children: (There are many excellent books in this category–I just listed my family's favorite.)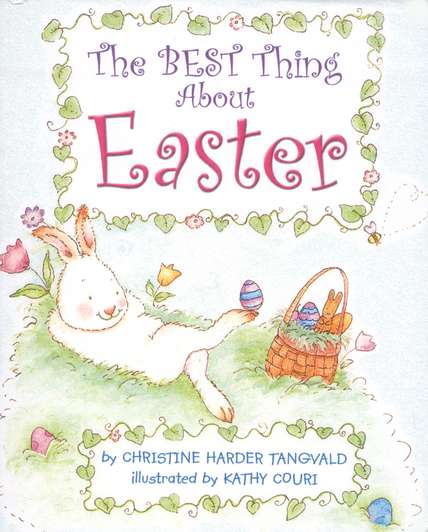 THE BEST THING ABOUT EASTER by Christine Harder Tangvald – I'm sure every young family has their favorite Easter book–this was ours. It doesn't look down upon Easter eggs or chocolate bunnies or pretty dresses, but it does emphasize Christ's death and resurrection. It's simple, which is probably why it works.
Story Description:
Whimsical illustrations and child-friendly text make every page of this Easter board book a treat for kids 2 to 4, and even more, it captures the essence of the Easter story in a unique way just for little children. Allowing for the fun of candy, and chocolate, of bunnies, and of new clothes, of family and church, the story comes right to the point of Jesus being the reason for Easter!
For all ages:
THE LION, THE WITCH, AND THE WARDROBE by C.S. Lewis – I'll never forget watching this movie for the first time back in 2005. Our then nine-year-old hadn't read the books, we hadn't talked about the movie either. For him it was an evening of entertainment. But the second the movie ended he looked at me, his eyes wide and said, "That was about Jesus!" He got it! Yet there are adults who don't see the connection. After that movie, he devoured all the Chronicles of Narnia books.
Story Description:
They open a door and enter a world

Narnia … a land frozen in eternal winter … a country waiting to be set free.

Four adventurers step through a wardrobe door and into the land of Narnia — a land enslaved by the power of the White Witch. But when almost all hope is lost, the return of the Great Lion, Aslan, signals a great change … and a great sacrifice.
What books would you add to this list?