(Book Giveaway! See below)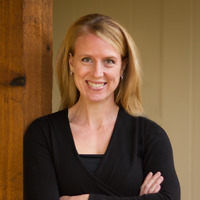 I'm very excited to welcome author Becky Wade to my blog today! In 2012, Becky's contemporary romance novel, MY STUBBORN HEART, jumped to the top of many readers' favorite's list. Mine included. After that sparkling debut, I couldn't wait to read more from her and, finally, a few weeks back, I spotted her new release UNDENIABLY YOURS at my local bookseller.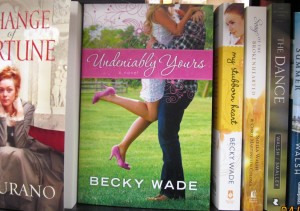 Although Unbelievably Yours doesn't officially release until tomorrow (May 1), it's already garnering well-deserved rave reviews. In this book you'll find a fun story, great prose, and, best of all, authentic characters–they're believable, tangible. What you won't find is a formulaic writing. Many romance authors have a discernible pattern from one book to the next. Even though names and situations change, you feel you've read the book before. Not so with Undeniably Yours. While many readers like the safety, and find comfort in sameness, I love authors who can change it up from one story to the next. I can't wait to see what Becky brings us next year.
And now for the interview …
Hi Becky! Thanks so much for taking the time to stop by my blog today. Could you tell us us a little about yourself?
I'm originally from Southern California, but once I married a Texan my future as a Texan was set in stone.  My husband and I live in Dallas with our three children (ages 12, 9, 4).  I spend a great deal of time every week caring for my kids and trying to keep up with all the household chores.  Maybe partly because of this, my writing days feel like vacation days instead of work days.  I absolutely love writing Christian contemporary romance.  I feel incredibly blessed and humbled to get to do this work for God's glory.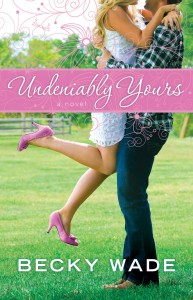 I just finished reading your latest release, Undeniably Yours and loved it! For my readers who haven't picked it up yet, can you tell us what it's about?
Sure!  Undeniably Yours is about a wealthy heiress who inherits her father's thoroughbred racehorse ranch. The good-hearted (and handsome, let me add) cowboy who runs the ranch falls hard for the heiress.  It's a story about trust, about growing stronger, about love.  Like all my books, it's modern, hopefully fun, humorous, and emotional.
I understand Undeniably Yours is the first in a series. What is the common strand that binds the series together? When can we expect the 2nd book to come out? The 3rd?
You're absolutely right. Undeniably Yours is the first in the Porter Family series. I've been wanting to try my hand at writing connected books for a very long time.  I'm honored that Bethany House has given me the chance!
The Porter Family has four siblings. Bo, the hero of Undeniably Yours, is the oldest sibling. The three books that follow will each tell the love story of a different sibling in the Porter family. The second book will come out in May of 2014, the next one the May after that, the final one the May after that.
Oh, I'm excited about that! I loved the Porter siblings–I'm especially curious about Jake–and see lot's of potential for fun story lines.
It's been nearly a year since My Stubborn Heart came out. What has this past year been like for you?
Oh, my!  It's hard to capture it all in words.  I've had mountaintop moments like when I…
first saw the book in print.
opened my email to beautiful messages of encouragement from readers.
attended my first ACFW conference.
answered a phone call from a lady who informed me that My Stubborn Heart had made the finals of the RITA Award.
There have been valley moments, too.  It's hard for authors to receive criticism for their work, their ministry.  I've received my share!
And then there have been lots of quiet times of walking along a scenic track in between the valley and the mountain when I simply had my head down working on the writing of the next book.
Which authors do you enjoy reading?
I read a mix of general and inspirational fiction, but I most enjoy authors who write novels focused on romance.  Some of my favorite Christian authors include Deeanne Gist and Susan May Warren.  In the general market, I really enjoy reading Susan Elizabeth Phillips, Laura Kinsale, Kristan Higgins, Shana Abe, Lisa Kleypas.
Oh fun, a bunch of authors I haven't tried yet! More books to add to my to-be-read list.
Have any authors influenced your writing?
Kristin Billerbeck did!  I published novels before I had children, then left my career behind to become a stay at home mom. I had no plan to return to writing but when I read What a Girl Wants, it thoroughly inspired me. I thought, 'If she can write this kind of novel for the Christian market then maybe I can one day write the kind of novel I'd like to write for the Christian market.'  Her book was hip and funny and relevant, and in some way it gave me freedom and permission to follow my own author's voice and God's leading when He called me back to writing.
I'm so glad you listened to the call. You really do have a fresh, unique voice that'll keep readers coming back. Assuming you have time to read, what's on your reading list right now?
I have two advanced reading copies sitting on my bedside table and they're both contemporary romances from debut authors.  Melissa Tagg's Made To Last, coming from Bethany House in the fall.  Also Five Days In Skye by Carla Laureano coming from David C. Cook this June.
Oh, I love reading novels by debut authors! I'm putting those two on my ever-expanding, to-be-read list. When you're not writing, what do you enjoy doing?
I love to play tennis, to have tea parties with my kids, to read in the tub.  I look forward to lunches out with friends or restaurant dinners with my husband.  I don't get to travel as often as I like (my children's pesky school schedule gets in the way) but I really do enjoy taking trips.  Browsing Facebook is fun for me, as is getting together with fellow writers.  Whenever time allows, which it hasn't lately, I like to stretch out on the couch and watch TV or movies with my husband after the kids are in bed.
Reading in the tub? I can just picture a bubble bath with candles, maybe some light music, chocolate, and a good book. Now that sounds divine! Speaking of chocolate, I know you're a connoisseur of fine chocolates—See's Candies to be specific. Do you have a favorite flavor?
I could angst over this difficult decision for ages!  I believe I'm craziest about See's Bordeaux and Almond Square.
Thanks for the recommendations. I'll have to give them a try next time I head to the Mall of America.
And thank you again for stopping by, Becky! It's fun getting to know you even better. 🙂
~*~*~
Becky Wade makes her home in Dallas, Texas with her husband, three children, and one adoring (and adored) cavalier spaniel. Her inspirational contemporary romance, Undeniably Yours, releases May 1, 2013 by Bethany House.
Books

:

*** Contest Info ***

If you'd like to win a copy of UNDENIABLY YOURS by Becky Wade, plus a small box of See's Candies (Becky's favorite!), in the comments below tell me what your favorite romance novel is. This contest ends Sunday, May 5, 2013 at 11:59 p.m. (CST). I will post the winner on Monday, May 6, 2013. The contest is open to residents of the contiguous United States.

Also, it would be super-nice if you'd Subscribe to my blog, but it's not required.

TO FIND MORE OPPORTUNITIES TO WIN BOOKS, CHECK OUT