***Book Giveaway – See Contest Rules Below***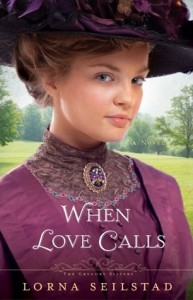 I'll confess my bias right up front as I give this shameless shout-out for Lorna Seilstad's newest release, WHEN LOVE CALLS (Revell). Lorna and I have been critique partners (and friends) since 2008, so I've sat in the front row cheering section since before the birth of her first novel Making Waves (Lake Manawa Series). Now she's onto her next series, The Gregory Sisters, and she's better than ever. I'll give Lorna personal credit for getting me to read historical romance and enjoy it!
I love Lorna's humor, her settings, the characters, the romance. If I need a pick-me-up, all I have to do is read one of Lorna's books, and she gets me smiling. 🙂 (They make a great Mother's Day present too!)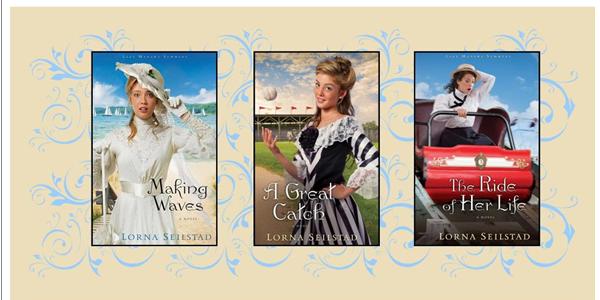 Now, as Lorna's critique partner, I have the privilege and honor of reading her books in their early stages, and get a glimpse into what's coming next. (It's very good!) Lorna has graciously shared her plans for books two and three of The Gregory Sisters series, so I can pass them on to you. Considering books two and three are set in Minnesota, that alone makes me very eager to read them, especially when Lorna teaches me a thing or two about my state's history (which she does quite often).
If you have yet to read a Lorna Seilstad novel, I hope you'll add them to your to-be-read list. You won't be disappointed!
Book 1—WHEN LOVE CALLS – (Romantic Times review rating of 4 Stars! Yeah, Lorna!!!)

Story Description
Hannah Gregory is good at many things, but that list doesn't include following rules. So when she is forced to apply for a job as a telephone switchboard operator to support her two sisters, she knows it won't be easy. "Hello Girls" must conduct themselves according to strict–and often bewildering–rules. No talking to the other girls. No chatting with callers. No blowing your nose without first raising your hand. And absolutely no consorting with gentlemen while in training.
Meanwhile, young lawyer Lincoln Cole finds himself in the unfortunate position of having to enforce the bank's eviction of the three Gregory girls from their parents' home. He tries to soften the blow by supporting them in small ways as they settle into another home. But fiery Hannah refuses his overtures and insists on paying back every cent of his charity.
When one of Hannah's friends finds himself on the wrong side of a jail cell, Hannah is forced to look to Lincoln for help. Will it be her chance to return to her dreams of studying law? And could she be falling in love?
With historic details that bring to life the exciting first decade of the twentieth century, Lorna Seilstad weaves a charming tale of camaraderie and companionship that blossoms into love. Readers will get lost in this sweet romance and will eagerly look forward to championing each sister's dreams.
Book 2—WHAT'S COOKIN''?(working title)
What's Cookin'? tells the story of the middle sister Charlotte. This story has a little mystery and a lot of food. It's set in St. Paul, Minnesota in 1910.
Story Description
After graduating from Fannie Farmer's School of Cookery in 1910, Charlotte Gregory, a woman with a taste for stirring things up, wins a contest and is offered a position which will allow her to travel, lecture, and give demonstrations on the newest kitchen revolution—cooking with gas.
She accepts the job, believing it will also allow her to carry on her mentor's work by speaking about improving nutrition for the convalescent at hospitals in the cities she visits. When she addresses her own local hospital, the nurses welcome her ideas about creating attractive food trays and providing fresh, appetizing foods. However, stubborn Dr. Joel Brooks, the young hospital administrator, believes she's stirring up unnecessary controversy. He insists the hospital does not need and cannot afford to make the changes she suggests.
While Charlotte is traveling, she frequently crosses paths with a thoughtful stove salesman, Lewis Mathis. He finds her ideas fresh and fascinating and encourages her work. Charlotte enjoys his companionship, and Lewis begins to think the two of them complement one another like biscuits and gravy.
Everything comes to a boil when Charlotte's wealthy aunt announces she is planning to host a charity ball for the hospital. She expects Charlotte to plan the entire festivity, including a menu sure to impress all the influential pocketbooks. Charlotte almost refuses when she learns she must work side by side with Dr. Joel. She soon discovers she and the doctor are a combustible pair.
Will Charlotte's goose be cooked when one man learns about the other? And in the end, which entree will she choose off the menu?
Book 3—A BLOOMIN' SHAME (working title)
The third book is the youngest sister's, Tessa's, story. By book three, we've seen Tessa want to become a reporter, an actress, a photographer, a librarian, and a Pinkerton agent. She actually ends up studying horticulture, but in this book, we see her putting the skills to work that she gained in exploring these careers. This book is set in St. Paul in 1912.
Story Description
Tenacious Tessa Gregory wants a position as a horticulturalist at the prestigious Como Park under the direction of Frederick Nussbaumer. However, when she arrives, Nussbaumer refuses to consider having a woman on his staff as a flower girl, let alone gardener.
When Tessa learns that Nussbaumer has great hope of building a conservatory rivaling those in London, Detroit, and San Francisco, she secretly goes in search of a way to help the man in his quest. Perhaps in helping him, he will reconsider. Using her natural acting abilities, she slips into her "aunt's" world of wealthy and influential people, and there meets one of Nussbaumer's gardeners Reese Baker.
Reese, who must also prove himself to the park superintendent, is drawn to Tessa like a bee to a flower, but Tessa will have nothing to do with him. She's in St. Paul for a purpose and not to find a husband. Reese, however, offers to let her help him with his gardening responsibilities in secret until they can find a way to convince Nussbaumer to hire her.
While Tessa works to persuade the right people to lend their vote toward the building of the conservatory, she unknowingly becomes part of an act of subterfuge fooling the legislators into financing the effort. She finally gets the master gardener's attention, but she also gets the attention of those opposed to the project and her life is threatened. When she learns who is behind the threats, she realizes it puts the whole conservatory project and Reese's future in jeopardy. Will she bury the truth and let love bloom? Or will she uncover the dirt and risk losing it all?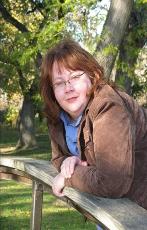 ~*~*~
About Lorna Seilstad~
A history buff, antique collector, and freelance graphic designer, Lorna Seilstad is the author of Making Waves, A Great Catch, and The Ride of Her Life. A former high school English and journalism teacher, she has won several online writing contests and is a member of American Christian Fiction Writers. Lorna lives in Council Bluffs, Iowa, with her husband. Find out more at www.lornaseilstad.com.
You Can Find Lorna At ~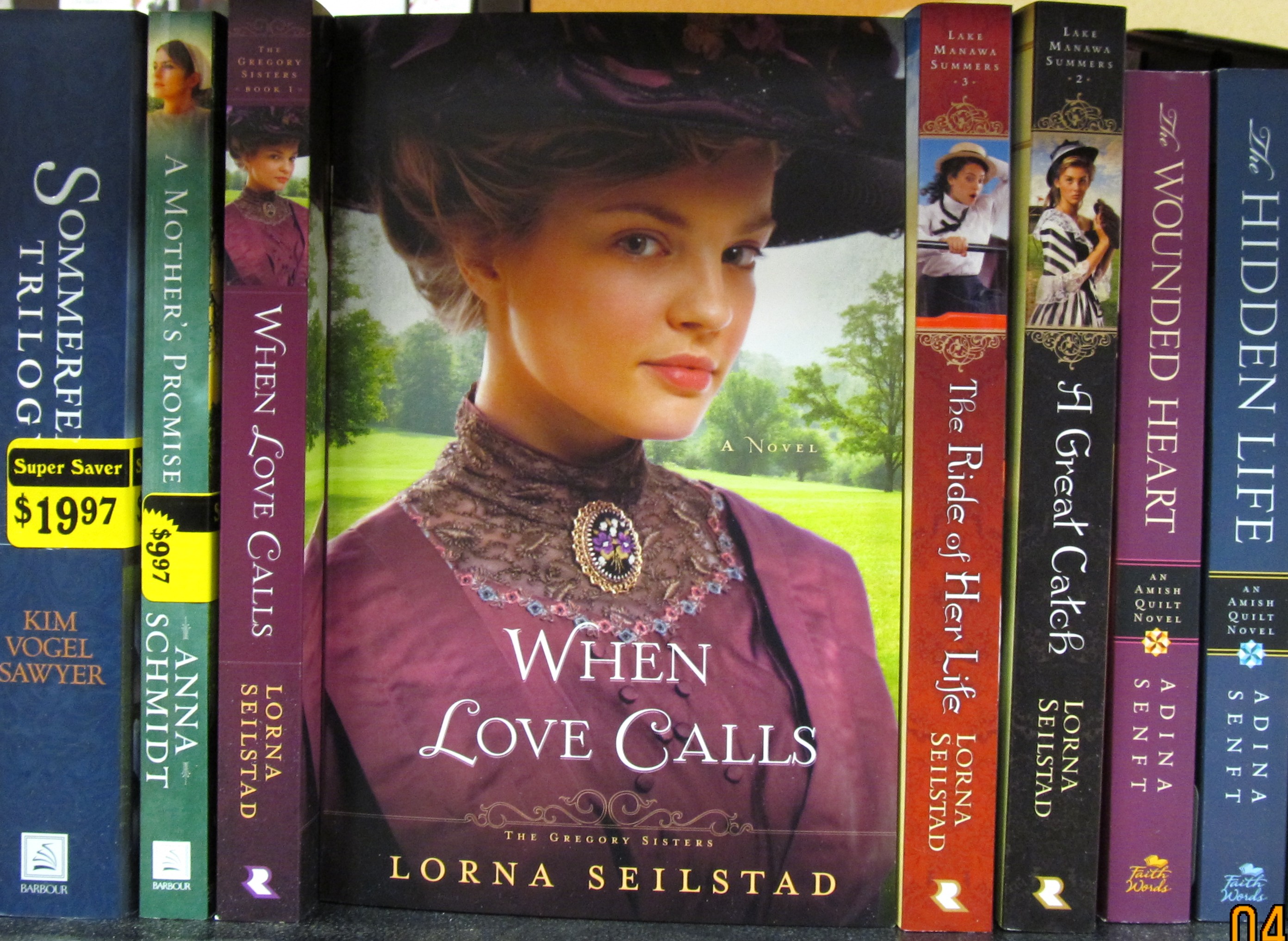 You can find When Love Calls and all of Lorna's books at ~
Your local bookseller
And other online stores!
***Book Giveaway Contest Rules***
If you'd like to win a copy of WHEN LOVE CALLS by Lorna Seilstad, in the comments below, tell me what your favorite historical romance novel is. This contest ends Sunday, May 5, 2013 at 11:59 p.m. (CST). I will post the winner on Monday, May 6, 2013. The contest is open to residents of the contiguous United States.
Also, it would be super-nice 🙂 if you'd Subscribe to my blog, but it's not required.
TO FIND MORE OPPORTUNITIES TO WIN BOOKS, CHECK OUT
FICTIONADDICTIONFIX.BLOGSPOT.COM