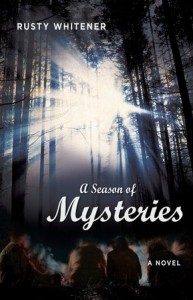 A SEASON OF MYSTERIES, Seasons Series #2 (Kregel) by Rusty Whitener – It's been a few long years since the first novel in the series (A Season of Miracles) was released. In 2010 it was a Favorite of mine with its beautiful prose, heart-tugging story, and characters you rooted for. I'm so excited to see that a sequel is finally coming out!
About A Season of Mysteries:
Some may think the ability to recall entire conversations verbatim is a remarkable gift. But to fifty-year-old Dr. Richard Powell, it is a disruptive burden. He is being haunted by words. The words take him back to 1976, to the unforgettable summer when he and his friends of Boy Scout Troup 44 first witness an epic conflict between good and evil.

Faith was relatively new to Zack, Donnie, Skeeter, and the other boys who had played together on the 1971 champion Little League team. That baseball season was forever imprinted on their souls, due in large part to the life-changing actions of a boy named Rafer. But this summer–1976–they would discover the real depth of their souls and the dangerous influences battling for control of their lives.

A follow-up to Whitener's acclaimed debut novel, "A Season of Mysteries" takes readers back to a time between the innocence of childhood and the uncertainty of teenage years; where girls, studies, and life's bigger issues become a reality. With the same gripping prose that made Whitener an award-winning screenplay writer, "A Season of Mysteries" explores the seen and unseen spiritual powers at work and the Ultimate Power who controls it all.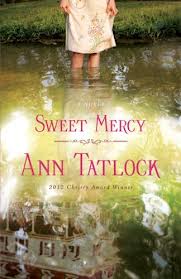 SWEET MERCY by Ann Tatlock – Another author gifted at writing musical prose, whose characters leap from the pages. Ann's books are perennially on my Favorite's list. I expect the same from this novel.
About Sweet Mercy:
When Eve Marryat's father is laid off from the Ford Motor Company in 1931, he is forced to support his family by leaving St. Paul, Minnesota, and moving back to his Ohio roots. Eve's uncle Cyrus has invited the family to live and work at his Marryat Island Ballroom and Lodge.

St. Paul seemed like a haven for gangsters, and Eve had grown fearful of living there. At seventeen, she considers her family to be "good people." They aren't lawbreakers and criminals like so many people in her old neighborhood. Thrilled to be moving to a "safe haven," Eve is blissfully unaware that her uncle's lodge is a transfer station for illegal liquor smuggled from Canada.

Eve settles in to work and makes new friends, including an enigmatic but affecting young man. But when the reality of her situation finally becomes clear, Eve is faced with a dilemma. How can she ignore what is happening right under their very noses? Yet can she risk everything by condemning the man whose love and generosity is keeping her and her family from ruin?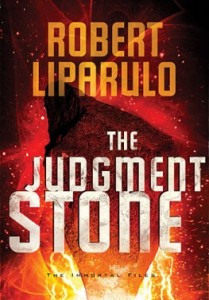 THE JUDGMENT STONE, Immortal Files Series #2 by Robert Liparulo
The first book in this series surprised me. It's in a genre I don't typically read, but Robert Liparulo managed to make me believe his implausible tale could actually happen. I'm hoping book number two will achieve the same results.
About The Judgment Stone:
The Clan is on a mission to defy God by destroying those with the strongest faith.

When a group of ruthless immortals—known as The Clan—attack St. Catherine's monastery at the base of Mt. Sinai, they steal one of the world's holiest artifacts: a piece of stone from the Ten Commandments. Those who touch the Stone can see into the spiritual world: angels, demons, and the blue threads of light ascending to Heaven that signal the presence of believers who are connected to God.

Only Jagger—a spiritually wounded husband, father, and former Army Ranger—and Owen—an immortal himself—have any hope of stopping the Clan's horrific plans.

But another group of immortals, who believe that Jagger's wife holds the secret to salvation, is after her. Torn between stopping the Clan and protecting his family, there are no easy answers for Jagger. Laying aside his faith in high-tech gadgetry and in his own strength and abilities and embracing true faith isn't easy for someone who has resisted for 3,000 years. But it may be the only key to his salvation.