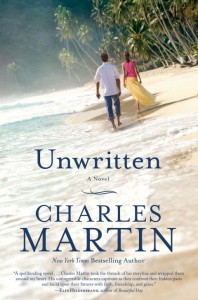 UNWRITTEN by Charles Martin – No one does romance like Charles Martin, always with a spiritual thread–sometimes overt, other times subtle. His prose alone is swoonworthy. 😉
Story Description:
An actress running from her past finds escape with a man hiding from his future.
When someone wants to be lost, a home tucked among the Ten Thousand Islands off the Florida coast is a good place to live. A couple decent boats, and a deep knowledge of fishing and a man can get by without ever having to talk to another soul. It's a nice enough existence, until the one person who ties him to the world of the living, the reason he's still among them even if only on the fringes, asks him for help.
Father Steady Capri knows quite a bit about helping others. But he is afraid Katie Quinn's problems may be beyond his abilities. Katie is a world-famous actress with an all too familiar story. Fame seems to have driven her to self-destruct. Steady knows the true cause of her desire to end her life is buried too deeply for him to reach. But there is one person who still may be able to save her from herself.
He will show her an alternate escape, a way to write a new life. But Katie still must confront her past before she can find peace. Ultimately, he will need to leave his secluded home and sacrifice the serenity he's found to help her. From the Florida coast, they will travel to the French countryside where they will discover the unwritten story of both their pasts and their future.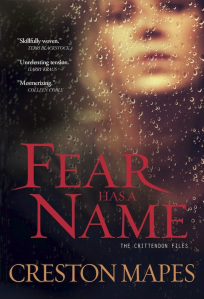 FEAR HAS A NAME, Crittendon Files Series #1 by Creston Mapes – Yeah! Finally another book from Creston Mapes! I LOVED his Rock Star Chronicles series and the standalone NOBODY. I'm very excited to read this new series.
Story Description:
How Far Would He Go To Keep Them Safe?
It was more than a break-in. More than a stalking. It was personal. When a stalker targets his family, journalist Jack Crittendon must uncover who the person is and what his motives are—if he is to protect the ones he loves. It will lead Crittendon into a world of behind-closed-door secrets and faith gone awry, as does his investigation of a missing pastor, whose apparent suicide is more than it appears. Each move Crittendon makes weaves him tighter and tighter into a web of lies, greed, hypocrisy, sin, and danger. He believed he'd never give in to fear. But that was before. And holding on to his faith won't be easy. Nor will keeping his family safe, and ending the terror. Because that might require him to step over lines he never dared to cross.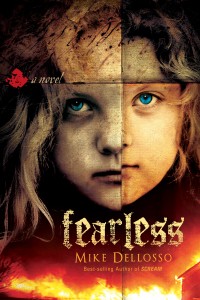 FEARLESS by Mike Dellosso – Mike Dellosso has proven himself a master in the Christian thriller genre–isn't that cover completely creepy? His stories always give me goosebumps. I expect no less from Fearless.
Story Description:
A child mysteriously appears in the lives of Jim and Amy Spencer. Will her presence be a blessing…or a curse?
When a nine-year-old girl named Louisa mysteriously appears in the middle of a house fire with no memory of how she got there or where she came from, Jim and Amy Spencer agree to take her in. Wrestling with the recent loss of their own child, Amy is hurt and angry while Jim is just trying to make it through each day and hold their marriage together.
For Jim, Louisa is the daughter he always wanted, but Amy isn't as comfortable with her. The girl has a special gift, and soon that gift will unknowingly push them all into contact with a serial killer who has been terrorizing the small town of Virginia Mills. Only by uniting can Jim and Amy save themselves and Louisa before it's too late.