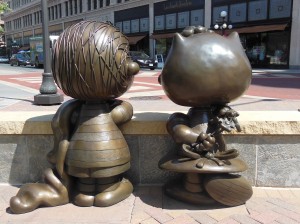 With over half of my family volunteering at Sonshine Music Festival (our state's Christian music fest), I decided that now was the perfect time to cross a few more items off of my bucket lists, both summer and lifetime. My son *volunteered* to come with me. The quick mention of stopping at an iconic malt shop had nothing to do with his volunteering. (Yeah. Right. 😉 )
Anyway, in the novel I'm currently editing, my male hero keeps a picture that was taken in Rice Park, a picture that brings back fond yet painful memories. (Rice Park is an historic park surrounded by the Ordway, Landmark Center, the St. Paul Hotel, and the Downtown Library.) In honor of the late Charles Schulz, this park has several bronze Peanuts statues. One of those statues is of Schroeder playing the piano while Lucy sighs from the front of the baby grand. Since this picture meant so much to my hero, I naturally had to have a picture of it too.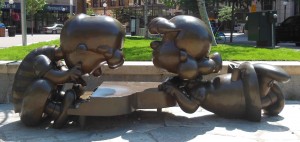 And, of course, while we were there, I snapped shots of all the other Peanuts statues. Doesn't this one with Marcie and Peppermint Patty look like the perfect place to sit down with a book?
Next, we walked over to the iconic Mickey's Diner for that malt I promised my son. We also ordered burgers and fries–what else do you get at a restaurant that looks like a railroad dining car?–and, oh my, were they good!

After lunch we had one more stop, a place I learned about just yesterday: Phalen Poetry Park. The pictures below explain why I wanted to go there.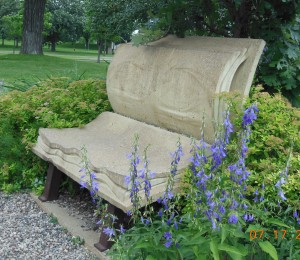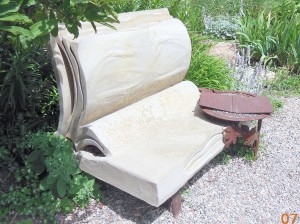 How many of you want one of those benches in your back yard? Yep, I'm raising my hand!