The August selection is quite small, but that's okay. This month I'm helping prep two of my kids for college and my third child for his senior year in high school. My focus is on them. Still, I'm looking forward to reading these three new releases.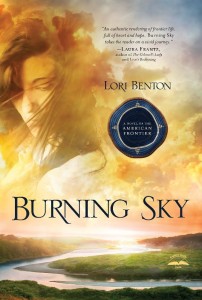 BURNING SKY: A Novel of the American Frontier (WaterBrook Press) by Lori Benton (Debut author) – As you know, I don't read many historical novels, but after reading an excerpt of this book on Lori Benton's blog, I've fallen in love with her prose reminiscent of Laura Frantz's. And, as you can see by the description below, the story sounds excellent as well.
The 18th century New York frontier bred courage in those who survived its perils. Willa Obenchain has courage to spare. Returning to her white parents' abandoned homestead after twelve years of Indian captivity, Willa believes a solitary life is the only way she'll never lose again what's twice been lost: her family, and her heart. As she begins the backbreaking work of reviving her farm, Willa's determined isolation is threatened. First by injured botanist Neil MacGregor, found unconscious on her land, and also by her Mohawk clan brother Joseph Tames-His-Horse, a man who cannot give up the woman he calls Burning Sky. Willa is a woman caught between two worlds and the residents of the nearby frontier village, still reeling from a bloody revolutionary war, are reluctant to welcome her home. As tensions rise, challenging her shielded heart, Willa must find a new courage–the courage to again risk embracing the blessings the Almighty wants to bestow, and answer the question, "am I brave enough to love again?"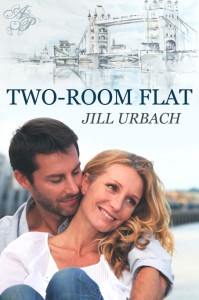 TWO-ROOM FLAT (Astraea Press) by Jill Urbach (Debut author) – My aunt introduced me to Jill Urbach last year, and since then I've had the joy of watching Jill going from *seeking publication* to *published*. What a fun journey!
I admit I've read this novel already, and thoroughly enjoyed it. Jill created two vibrant characters and took them on a vivid trip to London. It's definitely edgier than Christian fiction romances, so if you're looking for something sweet and fairy-tale-like, well, you won't find it here–which is why I enjoyed it. It's a fun, authentic, page-turner, a terrific debut for Jill.
Spicy fiction made novelist Claire Gissler a star, but she can't pen a sentence to save her life since her husband's accidental death two years ago. Now, deeply in debt, her only hope of reviving her crumbling career is to flee small town America for big city London. Trouble is, she can't afford the move. That is, not until hand-some Adam Lambright — her husband's best friend and the man she blames for his death — offers to let her stay in his flat… with him.

Adam Lambright used to know how to smile, how to have fun, how to love, but that was before watching his best friend die and his wife wither away from cancer. Now, ticked off at God, he's vowed never to love again. That doesn't mean he can't help out his best friend's widow. Besides, her life's more of a mess than his own.

Seeing no other possible option, Claire moves to London. In that exciting city, she faces the challenges of rebuilding her career — and the attentions of her sexy English publicist. But, it's her growing feelings for Adam that present the biggest challenge: learn to forgive or face heartbreak once again.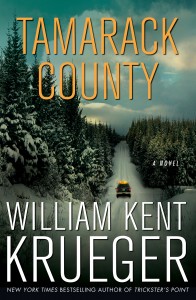 TAMARACK COUNTY (Atria Books) by William Kent Krueger – I've long been a fan of Krueger and his Cork O'Connor series based in northern Minnesota, and I eagerly await his new releases every year. While Krueger doesn't writer for the Christian audience, his books tend to have a spiritual emphasis, and he's fair to Christians. More importantly, Krueger always tells a page-turning tale. I highly recommend this series.
As a blizzard swells just days before Christmas, the car belonging to the wife of a retired local judge is discovered abandoned on a rural road in Tamarack County. After days of fruitless effort, the search-and-rescue team has little hope that she'll be found alive, if at all. Cork O'Connor, former sheriff and now private investigator, is part of that team.

Early on, Cork notices small things about the woman's disappearance that disturb him. But when the beloved pet dog of a friend is brutally killed and beheaded, he begins to see a startling pattern in these and other recent dark occurrences in the area. After his own son comes close to peril, Cork understands that someone is spinning a deadly web in Tamarack County. At the center is a murder more than twenty years old, for which an innocent man may have been convicted. Cork remembers the case only too well. He was the deputy in charge of the investigation that sent the man to prison.

With the darkest days of the year at hand, the storms of winter continue to isolate Tamarack County. Somewhere behind the blind of all that darkness and drifting snow, a vengeful force is at work. And Cork has only hours to stop it before his family and his friends pay the ultimate price for the sins of others.
What books are you looking forward to reading this month?