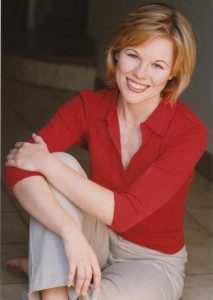 I'm so excited to welcome debut novelist, Jill Urbach, to my blog today! I *met* Jill about a year ago through my aunt, and since then I've witnessed Jill's fun journey as she traveled from pre-published author to published. Please give her a warm welcome.
Hi Jill. Thank you so much for taking time for an interview! I'm glad you're here. 🙂 Would you mind telling me and my readers a little about yourself?
I live on a small island in Washington State with my husband and two daughters. I teach a combined 3rd/4th grade class at a small Christian elementary school, but that is not my first career. I've also worked as a professional television actress and as an advertising executive. However, novel writing is a career I've wanted since I was in the third grade. It's just taken me awhile to get around to it!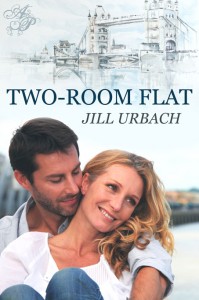 Wow. You've led a very diverse and colorful life! And, after reading your debut novel TWO-ROOM FLAT, I can honestly say that you excel at being a writer. Congratulations on your debut release! How exciting! Could you tell us about your journey to publication?
Well, let's see. I worked on the manuscript for Two-Room Flat for about a year and a half. Then I attended the Pacific Northwest Writers Association conference (nervous as all get-out!) and pitched to a few agents and publishers. They were receptive, but ultimately turned me down. However, I got some good input, which I used to do a major rewrite of the manuscript. I also attended another conference, specific to romance writers. The following year I again attended the PNWA conference and that year the revised Two-Room Flat was actually a finalist in their literary contest. That encouraged more agents to take a look at it, but they all still eventually passed. It seemed that Two-Room Flat didn't fit neatly enough into any category for marketing purposes. Around that time I started teaching full-time, so, since I no longer had the time to continue querying, I set the manuscript aside. Fast forward to mid-winter break when an author friend pointed me in the direction of Astraea Press. It seemed like it could be a good fit, so I did the old, "What have I got to lose?" and sent it off. By spring break I had a contract.
That goes to show that writers should always keep trying. What inspired Two-Room Flat?
First of all, London has been my favorite city since my first trip there just a few months after Charles and Diana got married. I was twelve, and very impressionable. I visited a few more times over the years. Then, in 2009, I spent one perfect day in London on my way home from a mission trip to Kenya. I hadn't been there for twenty years. I still loved it, and I started to daydream about renting a flat with my husband for a few months once our daughters go off to college. From there, my imagination took off.
That's the fun of writing–we can *live* our daydreams out in our stories. Maybe someday that daydream will come true for you and your husband.
What are you working on right now?
I have a few things in the hopper at the moment. I'm writing the story of one of the minor characters from Two-Room Flat. I've also started the first novel in a trilogy that will follow three friends, post-college. Then, in a whole different direction, I'm just finishing the first draft of a middle grade novel. And, of course, I'm starting to get my lesson plans together for the beginning of school.
You've got a very full plate! When you have time, which authors do you enjoy reading? Have any influenced your writing?
I read a broad range of authors. I enjoy historical thrillers like Steve Berry's. Of course I enjoy romance, both contemporary like Sandra D. Bricker and British author Katie Fforde, and Regency like Jane Austen and Julie Klassen. I also read YA and middle grade. (I'm a teacher and mother of teens, after all.) When writing a certain genre I tend to read a lot of books in that genre.
What's on your reading list right now?
This summer I treated myself to Edward Rutherfurd's Paris. It's a tome, but I love his clever intertwining family stories and historical detail. Since I'm writing middle grade, I'm also reading Gary D. Schmidt. I also have Sticky Faith by Kara E. Powell and Chap Clark waiting for me on my nightstand. I hear it's great, but, to be honest, fiction usually wins out over nonfiction.
Oh, some new titles to add to my list! Thank you!
When you're not writing, what do you enjoy doing?
Remember my varied career path? It's because I have so many interests. So, when not writing I can be found reading, acting in community theatre, singing in a jazz band, or baking, all the while trying to spend enough time with my family.
Sounds like you'd fit right in with my music / theater / literature-loving family.
And the most important question: milk chocolate, dark chocolate, white chocolate, or no chocolate? 🙂
My fingers want to type "milk", but, since I can eat smaller amounts of dark chocolate than milk chocolate, I'm trying to train myself to prefer dark. But if I didn't need to worry about my waistline, it would definitely be milk chocolate. Preferably Norwegian.
Thanks again, Jill, for stopping by my blog today. I pray God will richly bless your novelist journey.
Where to find Jill

:

Where to purchase Two-Room Flat: https://www.jillurbach.com/books.html