As we enter fall, and with winter a few months beyond, I'm finding meager pickings on the new-release book shelves. That's too bad since there's nothing better in the fall and winter months in Minnesota than sitting with a book and hot chocolate by the fireplace. It might be a good time to re-read some of the classics gathering dust on my shelves.
Still, there are a couple of won't-miss novels coming out in October: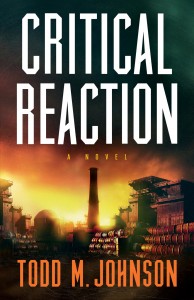 CRITICAL REACTION by Todd M. Johnson (Bethany House) –  I thoroughly enjoyed Todd Johnson's debut novel, The Deposit Slip. I loved that while it was legal fiction, the story line wasn't bogged down with legalese and yawning court room scenes. The Critical Reaction story line is quite a departure from his first novel, but it still sounds very intriguing. (Officially, Critical Reaction doesn't release until November, but I'm going to pick up my copy at Todd's October 24th book launch. Also, I will be posting an interview with Todd on Tuesday, October 29.)
Story Description:
When a Warning Siren Screams in the Desert Night, the Worst Has Happened

After turning out plutonium for the Cold War, the shuttered Hanford Nuclear Facility's poisoned buildings may be a bigger risk than ever. The men who guard the facility from sabotage or monitor its buildings are told the dangers are under control. But then the worst happens–a thunderous explosion in the dead of night.

Kieran Mullaney survived the blast, but when threats and silence meet his attempts to discover what really happened, he reconnects with an old friend–inexperienced lawyer Emily Hart. Convinced Hanford is hiding something, they also realize their case is sunk without more help.

Emily's estranged father, Ryan, has the courtroom experience they need, but he's grown jaded and weary of the profession. Still, it's a chance to rebuild ties to Emily, and the deeper he digs, the stranger–and more dangerous–the case gets.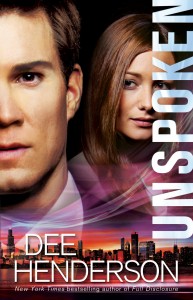 UNSPOKEN by Dee Henderson (Bethany House) – Dee Henderson's previous release, Full Disclosure, was met with mixed reviews. Admittedly, I was one of the readers who was greatly disappointed in the novel. I didn't care for the characters at all, the romance was stilted, the plot plodded along. I'm looking for redemption in her new release, Unspoken. Like so many, I fell in love with her O'Malley stories and know she's fully capable of delivering that love-the-characters, can't-put-it-down novel. I'm hoping Unspoken meets that standard.
Story Description:
Charlotte Graham is at the center of the most famous kidnapping in Chicago history.

The task force of FBI and local cops found her two abductors, killed them, rescued her, but it took four very long years. The fact she was found less than three miles from her home, had been there the entire time, haunts them. She's changed her identity, found a profession she loves, and rebuilt her life.

She's never said a word–to the cops, to her doctors, to family–about those four years.

A family legacy has brought her back to Chicago where a reporter is writing a book about the kidnapping. The cops who worked the case are cooperating with him. Her options are limited: Hope the reporter doesn't find the full truth, or break her silence about what happened. And her silence is what has protected her family for years.

Bryce Bishop doesn't know her past, he only knows she has coins to sell from her grandfather's estate–and that the FBI director for the Chicago office made the introduction. The more he gets to know Charlotte, the more interested he becomes, an interest encouraged by those closest to her. But nothing else is working in his favor–she's decided she is single for life, she struggles with her faith, and she's willing to forego a huge inheritance to keep her privacy. She's not giving him much of an opening to work with.

Charlotte wants to trust him. She needs to tell him what happened. Because a crime cops thought was solved, has only opened another chapter…