Knowing how easy it is to get sucked down into the Social Media drain, I've been doing my best to avoid creating an author Facebook page, but I finally gave in.
While creating a post at Inkspirational Messages that spotlighted our members' Social Media links (see them here), I figured it was the perfect time to take the plunge.
So, if you'd hop on over to Facebook and Like my page, I'd greatly appreciate it!
https://www.facebook.com/BrendaSAndersonAuthor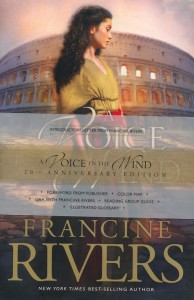 Also, for stopping by today, I want to give you an opportunity to win (1) copy of my favorite Christian market novel: A VOICE IN THE WIND by Francine Rivers.
Just answer the question below, and you'll receive one entry into this contest:
What is your favorite Christian novel?
Contest Rules:
If you'd like to win a copy of A VOICE IN THE WIND by Francine Rivers, in the comments below, tell me what your favorite Christian novel is. This contest ends Sunday, October 13, 2013 at 11:59 p.m. (CST). I will post the winner on Monday, October 14, 2013. The contest is open to residents of the contiguous United States.
Also, I'd love it if you'd Like me on Facebook and Subscribe to my blog, but it's not required.
~~~~~
TO FIND MORE OPPORTUNITIES TO WIN BOOKS, CHECK OUT