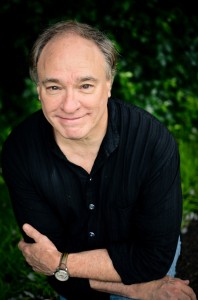 I'm excited to introduce you to Todd Johnson today. He's a fellow Minnesotan who pens legal suspense–very good legal suspense. I'm currently in the middle of his sophomore release, Critical Reaction, and I don't want to put it down. While Bethany House is his publisher, I believe his books have a much broader appeal than the Christian market.
Todd, thank you for taking time to talk with us today! Can you tell my readers a little about yourself?
Though a "transplant" to Minnesota at the age of ten (moving north from years in Iowa and Illinois), forty winters here have made me a full blooded Minnesotan. Those years have been interspersed with four years in New Jersey at college; five different periods living and working in Washington, D.C.; five years in Seattle as a young attorney; and a stint as a diplomat with the Foreign Service in Hong Kong.Though I've had the good fortune to do other interesting work, most of my professional life has been spent as a trial attorney, the past twenty years in partnership with one of my older brothers, Scott.
I have a beautiful, blue eyed Norwegian-American wife, Catherine (for thirty-five years), and two children I am very proud of: my son Ian who is finishing his PhD in military history at the Ohio State and my daughter, Libby, in her second year at Bethel University.
I love to write, cycle, travel, and am, at heart, an athlete; an optimist; a lover of travel; and above all else a believer in the risen Jesus Christ.
Could you describe your journey to publication?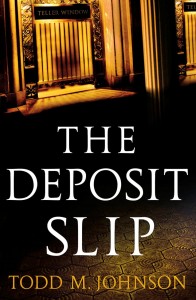 I began writing short stories in elementary school and continued, with encouragement from fine teachers, through high school. In college, I took some creative writing courses, but set writing aside for my career in law. Each year I'd tell myself I'd write a book the following year.
Four years ago I had an experience that finally got me reengaged with writing. I sat down and began to work, and recalled the joy and satisfaction of the process. I began a novel that I eventually asked a friend at Bethany House to read. He passed it on to a fiction editor who rejected the idea, but asked if I had any others. Among a dozen possibilities, he chose The Deposit Slip. After working together over the course of a year, he offered me a book contract.
What is a lesson you learned during that journey?
Perseverance and a refusal to be discouraged. In my case, there came a point where I realized that I'd been discouraged from writing by a sense of the enormous challenge of "becoming a writer", which I defined as completing a novel, getting the attention of an agent, and publishing. That perspective was fueled by workshops where agents or publishers told the audience that their chances of publishing were abysmally small.
I finally realized that focusing on agents and publication confused the trappings of the writing profession with writing. I concluded that the minute I sat down and began to construct a sentence, a paragraph, then a chapter, I was a writer. It was really irrelevant whether that work ever made it to a publisher, or was read only by my family or friends. That freed me up to begin learning and enjoying the craft of writing-which can only be experienced by writing.
That's great advice for all writers out there. It's easy to become discouraged and to confuse the writing profession with writing.
Tell us about your current work.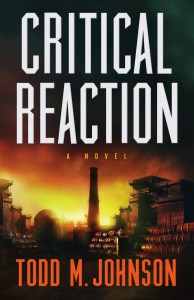 My second book, Critical Reaction, was inspired by a case I handled in the late 1990s. In the real case, an explosion at a mothballed plutonium production building on the Hanford Nuclear Facility of eastern Washington state exposed nine workers to a plume of smoke. The contractor denied any hazardous substances were released by the explosion, which led to the litigation. The case took six years to resolve, and was one of the most challenging of my career.
Critical Reaction, though inspired by that case, is a work of fiction, involving different persons and events from the real case. It's both a legal thriller and an exploration of reconciliation between a daughter and her estranged father, who work together representing two injured workers as they take on a difficult and ultimately dangerous case together.
As with the real case, the book takes place in the desert of eastern Washington State at the Hanford Nuclear Facility, where plutonium was manufactured for America's Cold War nuclear arsenal. There, in the dead of night, an explosion tears through one of the most contaminated buildings still standing on the grounds. Guards at the facility are exposed–but to what is unclear. The contractor in charge of safeguarding the site, Covington Nuclear, denies any release of deadly radiation. But the father and daughter attorneys representing the injured guards discover not only that the health of their clients is at stake, but also secrets far deeper and more dangerous buried in the Hanford desert.
Critical Reaction is a different kind of book from The Deposit Slip [Todd's debut novel]. It is a very different setting from Ashley, Minnesota, involving more varied characters, as well as a trial.
Fundamentally, though, it remains a legal thriller with people struggling with personal issues while the drama of civil litigation drives and defines the overarching conflict.
Do you have plans to write more novels?
I do. I'm currently working on my third book, tentatively titled "The Deadly Trust". Bethany House has also asked me to be prepared to write a fourth legal thriller.
Glad to hear that! What are you working on right now?
The Deadly Trust is about a Minneapolis attorney fighting to make partner in a high paced law firm. He is assigned to represent the grandchild of a notorious bootlegger who   created a Trust that now has over twenty million dollars in it; a Trust that is to be             distributed to his grandchildren thirty years after his death. But only those grandchildren who meet secret conditions, known solely by the preselected arbitrator, will collect. When the protagonist tries to learn about the bootlegger in order to successfully qualify his client to share in the Trust, matters spin out of control – as the Trust funds disappear and he is accused of stealing them.
That sounds like another excellent story!
Do you have any tips for the aspiring author?
Write because you love it. And recognize yourself as a writer because you write, and not because someone else has deemed your work worthy of representation or publication.   For me, that was the key to having the freedom to really work at the craft of writing.
For those authors who wish to include legal scenarios in their novels, what is the best way to research that scenario(s)? To whom should the author speak?
Probably the best way to research legal scenarios is no different than any research: speak with trial attorneys; sit in on a number of trials (if possible, with insight into the case from the attorneys involved). Also, speaking with judges could give a good perspective on what is really happening in the courtroom.
Which authors do you enjoy reading? Have any influenced your writing?
My favorite authors are Pat Conroy and Harper Lee. I can't imagine aspiring to the quality of either author's work, but I have certainly been influenced by Pat Conroy's ability to weave place and character with suspense and intrigue.
What's on your reading list right now? (Assuming you have time to read.)
I have little time to read just now, and suffer from a fear that if I get too engaged in a novel, I will end up writing like the author. As a result of both afflictions, I find myself reading non-fiction which I can pick up and put down more readily.  I'm currently reading a biography of Julius Caesar.
When you're not writing, what do you enjoy doing?
As I mentioned above, I love to cycle, travel, hike, and spend as much time as possible with my family. I also have a monthly "low stakes" poker game with great friends that is now entering its twelfth year.
Thank you, again, Todd for talking with us today! It's great getting to know you better.
Biography
I graduated from Princeton University and University of Minnesota Law School. My stint in the foreign services was served in Hong Kong. After moves every few years, my wife and family and I have been settled into Minnesota for the past twenty years. My most fond     years growing up were spent in Geneseo, Illinois – the real genesis for Ashley, Minnesota in The Deposit Slip.
Getting in touch with Todd