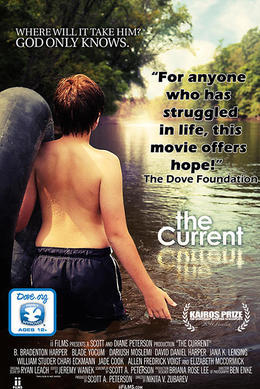 Many exciting things are happening it my church right now. At the forefront is that we're moving into our own building in less than a month. After three plus years of worshiping in a school gym, it will be a very welcome experience.
More excitement comes from fellow church goers, Scott and Diane Peterson. You see, right now Scott's living his dream by seeing his screenplay come to life on the big screen. His movie, The Current, opens in our area this coming Friday, and I can't wait to see it! (Watch the trailer below.)
And as busy as Scott is right now, he graciously took time for an interview.
Welcome, Scott! Thank you so much for taking time from your busy schedule to chat with me and my readers. Could you tell us a little about yourself?
I was born in South Dakota and, after my parents finished college and my dad was back from Vietnam, he took a job in Chicago as a Civil Engineer. We were perfectly happy in Chicago; Dad was living the dream. He earned a Master's Degree in Civil Engineering and had a great job but when "big city" violence got a little too close to his three young children, they packed everything up and we moved back to the relative safety of rural South Dakota. I have always admired that about my parents – especially my dad. He gave up his dream – his entire education – so that we could be raised in a safe environment. You might notice that the first ten minutes of the movie The Current are semi-autobiographical and deal a lot with this part of my life. Unlike the character Jake moving to Minnesota, I was more than happy to move to Sturgis. It was a great place to grow up. Today, I am married to Diane and we have a daughter (from a previous marriage), Lacey, who is married to Ryan and they have a beautiful daughter named Paisley. She is only 18 months old but we are already planning to be the ones who teach her to ski both on the water and downhill.
Could you share your faith journey?
Since I went away to college over 30 years ago, I had lived a life far from Christ. I was a horrible, immoral womanizer and led a life that later in life led to a lot of guilt. Nine years ago, I moved to a new house. Everyday on the way home from work I was stuck in traffic and had to stare at a church's steeple and cross – straight ahead in the middle of the road. It was a constant reminder that I was not living my life the way God intended. When I couldn't take it any longer, I finally went there one Sunday to check it out. As it happened, I heard a sermon from the fill-in Associate Pastor who knocked it out of the park that morning. I started going to church sporadically (baby steps right?) and EVERY time that Associate Pastor was preaching. I really connected with his preaching and as a result I turned my life back over to Christ.
 I started praying that God would help me find someone. I placed an ad online and along came Diane. To say she was Heaven sent is an understatement. She is a committed Christ follower, and I could not ask for a better person to spend the rest of my life with. We married a year later, and I told her that I would draw a circle on a map around our house–10 miles across–and go to every church in that circle until we both walked out and said "Wow, that's the one." But I asked her to just try a particular church with me first. She did and we both agreed, it was the one. We have been actively involved ever since.
Today, I am on fire for the Lord. I reaffirmed my baptism, and it was one of the more moving experiences of my life. How powerful to have the symbolism of your sins being washed away and you being raised into a new life.
The ii in my logo (ii Films) is there because the white space forms a cross. As in my life, the cross is hard to see sometimes but it is always there. Sometimes it even will taunt you in traffic and beg you to come back. The cool thing about my story is that it is The Story of the Prodigal Son and my favorite part of that story is "But while he was still a long way off, his father saw him and was filled with compassion for him; he ran to his son, threw his arms around him and kissed him." Did you catch that? He ran to him. God ran to me! I love it.
Love that! What an inspiring testimony! What inspired your movie, The Current?
I first looked into producing The Current in the summer of 2011; we just ran into walls and closed doors. That fall, the screenplay was a finalist in a contest (the Kairos Prize) for spiritually uplifting screenplays. About that time, we went to a vision dinner that our pastor held to discuss the vision for our church for the coming year. At that dinner, our pastor challenged the congregation by asking us to look at our lives and figure out what God was calling us to do that was impossible. When we got out to the car Diane hit me on the shoulder and said, "You know he's talking about your movie, right?" Diane didn't know, but — earlier that week — I received an email from the guy in charge of the camp that we eventually used for ⅔ of the locations for the movie; he was asking if we were still interested in using the camp. From that point on, doors were wide open for us! We were casting by April and filming by July. It was incredible how things just fell into place. We just had to wait for God's timing.
As an author, I understand completely about waiting for God's timing. It's not always easy, but it's always right.
Could you describe The Current's journey from concept to Movie Theater?
Once we got the giant nudge from God to make The Current, it was "all systems go" for the next two years. We started scouting locations, mapping out everything we'd need, and planning for auditions. We auditioned in April and May of 2012 and also advertised for a crew. We filmed for 5 weeks from July through August 2012. We typically filmed all day (6 days per week), then I'd come home, unload the trailer, download the video and sound and watch/listen to everything to make sure we got what we needed. We'd get up early the next day, load the trailer with what we needed for that day's work, and start again.
God brought about 300 volunteers (mostly strangers) together for this project — an amazing director, cast, crew, and extras; people who loaned us locations, vehicles, props, music, etc. It was incredible to see how He brought the perfect people into the picture exactly when we needed them. Two of the actors in the film are father and son in real life and their family of five moved to the Twin Cities to live with us for the summer while we shot the movie. What a huge blessing it was to have them as part of our family for that time. Our incredible crew worked long, hard days and gave it their all … and they were so much fun! The kids in the movie are all so smart and talented! One of our lead actors had never acted before — he has a gift! These folks all became like a giant family to us.
And then came post-production. Our editor, Jeremy Wanek, is a God-send. He is an extremely talented young man with a heart for God; he spent hundreds (thousands?) of hours working over most of the last year to edit the movie so its message really came through, as well as to color the movie and do all of the visual effects. Our sound guys — talented music technicians who were learning "movie sound" for the first time — worked dozens of hours to adjust and enhance the sound; this was an extraordinarily difficult job with a huge learning curve. We set up a sound-proof booth and sound station in our dining room to do additional recording where sound needed to be replaced. For the music, we listened to hundreds of songs online, found the "right" ones, and wrote to the bands to ask them to come on board . WOW — what a talented group of bands we have; we're still moved every time we hear these songs and know that God brought us together and gave us one of the best soundtracks we could have imagined.
Matt. 19:26: "[W]ith God, all things are possible."
Amen! Do you have plans for more movies?
We have two more screenplays that I've written that we think we could produce ourselves, but we aren't sure about the timing. We are debating about timing… if we should do it this summer (2014) or the following one. We'll just leave the timing up to God.
What are you working on right now?
Right now I am editing the behind the scenes video that will be a part of the DVD "Extras" and we are heavily into the distribution aspects of the production. We are busy lining up theatrical showings throughout the country. So far we have showings set up in 6 theaters in 4 different states but we might end up having as many as 50 theaters in 17 different states.
If any of your readers would like to see The Current at a theater near them, all they have to do is email diane@iifilms.com with a couple of specific theater choices as well as potential dates and times, and we will try to get it set up. All we ask is for that person to promote it in his/her area to friends, churches, and through social media networks; for that, the host/promoter gets 5% of the box office for that showing.
Which movies do you enjoy watching? Have any influenced you?
My favorite movie is a drama that hardly anyone has ever heard of called "The Cure." It's just really well-done. The movies by Sherwood Pictures are a huge inspiration — these guys didn't start as filmmakers, but felt a call to reach their community and realized that people were more influenced by movies than by church, so they started making movies as a way of reaching the world for Christ and — since then — they've also been sharing resources and templates to help others to do the same. They really started a movement of filmmakers who want to change our culture for God.
What's on your reading list right now?
I always have at least one book going at a time. I just finished Craig Groeschel's "Soul Detox" and "Altar Ego." Right now I'm reading Kyle Idleman's "Gods at War." Both of these guys are great at putting things into plain terms and real-life examples that I can really get my hands around. This is good, inspirational stuff that helps me to learn more about God and myself.
Do you have any tips for the aspiring screenwriter?
Get the book "The Screenwriter's Bible" by David Trottier, and screenwriting software. One thing that is so important is that your screenplay be properly formatted. If a screenplay isn't properly formatted, people in "the industry" generally won't even look at it. The other thing to do is to get your screenplay reviewed and critiqued by someone who knows screenplays. Writing screenplays is considerably different than writing a novel, and the person giving you advice should have knowledge of the proper structure and formatting.
When you're not working on The Current, what do you enjoy doing?
We're involved in our church (Northgate Church in Ramsey, MN) and love what God is doing there and that we get to be a part of it. I'm a football freak, so this is a great time of year for me. Otherwise, my wife and I both love to ski, camp, boat, and kayak. We moved to the lake this year and really enjoy just getting out on the water, especially if friends will come out with us!
Thanks, again, Scott for stopping by today. My prayers are with you and Diane and all those involved with ii Films, that your work will ripple outward and touch many lives.
~~~~~~
How can I bring The Current to my local theater?
Contact Diane at diane@iifilms.com. See above question What are you working on right now? for further information.
How can I get in touch with Scott & ii Films:
Where can viewers see / purchase the movie?
Where can I purchase The Current's original motion picture soundtrack?
Awards for The Current:
2011 Finalist Kairos Prize for Spritually Uplifting Screenplays
The Current Movie Reviews