This past week, I was tagged on Facebook and instructed to list ten books that have made an impact on my reading life. I dutifully answered the request and figured it would also make a perfect blog post for this busy time of year.
1. The Bible, of course. As a linear thinker, I really like reading a chronological version.
2. Betsy-Tacy series (Maud Hart Lovelace) – It's the first series I remember gobbling up back in elementary school.
3. Trixie Belden series (Julie Campbell & Kathryn Kenny) – I loved Trixie's imperfection, so unlike the perfect Nancy Drew. She was someone I could relate to.
4. Alfred Hitchcock and the Three Investigators series (various authors) – Like Trixie, the Three Investigators weren't perfect, which made them far more authentic than the Hardy Boys.
5. Behold a Pale Horse (Joe Musser) – This book was given to me by my pastor when I was 10 or so. It was my introduction to Christian fiction.
6. Danny Orlis series (Bernard Palmer) – A Hardy Boy-like adventures with a Christian protagonist.
7. Jane Eyre (Charlotte Bronte) – I love Jane Eyre because she's not your typical protagonist. She lacks physical beauty, but has a very layered character.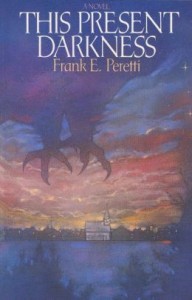 8. This Present Darkness (Frank Peretti) – The first work of Christian fiction I read as an adult. It made me think of spiritual warfare in a whole new way.
9. The Last Sin Eater (Francine Rivers) – I debated between listing this book and Francine Rivers' A Voice in the Wind. Both are extraordinary works of fiction. I've read A Voice in the Wind several times, but The Last Sin Eater was the book that introduced me to Francine Rivers.
10. Gulliver's Travels (Jonathan Swift) – I just love the satire in this books. Wish I could write like that!
I'd love to know which books have made the biggest impact on you!