I'm very excited about these next four novels, all written by veteran authors, authors with a gift for challenging the reader to think–my favorite type of books!
Are any of these on your to-read list?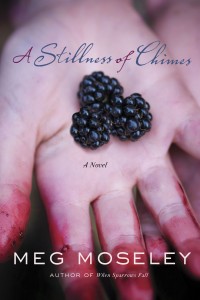 A STILLNESS OF CHIMES by Meg Moseley (Multnomah Books)
When Laura Gantt returns to Georgia to handle her late mother's estate, she hears a startling rumor—that her father staged his drowning years ago and has recently been spotted roaming the mountains. With the help of her former high school sweetheart, Laura searches for the truth. But will what they find destroy their rekindled feelings?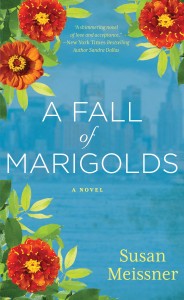 A FALL OF MARIGOLDS by Susan Meissner (NAL)
It's 1911, and nurse Clara can't get over the man she loved. But while caring for a widowed immigrant, she's led to a life-changing secret—and decision—by his scarf. A century later, Taryn can't move on after losing her husband and heirloom scarf on 9/11. Crushed by tragedy, will these women ever open their hearts again?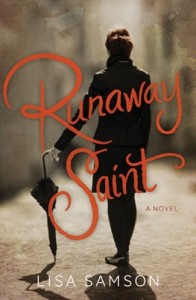 RUNAWAY SAINT by Lisa Samson (Thomas Nelson)
Sara's an artist with a supportive husband and a house that folks on her block admire outright. But she's restless and bored with life.

Then her legendary Aunt Bel shows up, wearing a smile after years without a word.

Twenty years ago, fresh out of college, Bel left for a summer missions trip and never returned. Now she's on Sara's doorstep, looking for a place to crash. Sara can't say no to family, even if she hasn't seen Bel since she was a nine-year-old girl. But saying yes to Bel turns Sara's whole precariously-balanced life upside down.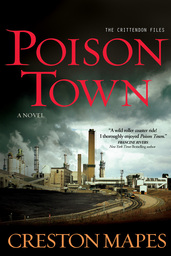 POISON TOWN, Crittendon Files Series #2 by Creston Mapes
There's More Than One Kind of Poison in This Town

People are sick and dying. Rumors are swirling. Some claim chemicals leaking from a manufacturing plant are causing the cancer that's crippling people on the poor side of Trenton City, Ohio. Yet nothing at the plant appears amiss. The problem remains a mystery until reporter Jack Crittendon's long-time mechanic falls ill and he investigates. Soon Jack becomes engulfed in a smokescreen of lies, setups, greed, and scandal. The deeper he digs, the more toxic the corruption he uncovers. As he faces off with the big-time players behind the scenes and tries to beat the clock before more people die, he realizes the chillingly unthinkable—he knows too much.