If you look at the listing of upcoming releases on the Family Fiction or the Soul Inspirationz sites, you'll find there's no shortage of books being released in March. A lot historical, Amish, sweet romance, and romantic suspense. Novels written by award-winning, best-selling, gifted authors. Exactly what the Christian fiction audience clamors for. I'm certain they're all wonderful stories, but just not for me.
I always have to be different, and I'm constantly on the look out for that unique story, one that sets itself apart from the usual. As I've said before, I crave books with meat, with stories that will challenge me. Those pickings for March are slim. One-book slim, but that book looks like a good one.
Christa Allan is known for pushing the boundaries of Christian fiction, and I applaud her for that. Her newest release, Test of Faith, should be just the reading challenge I'm looking for.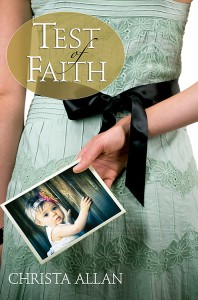 TEST OF FAITH by Christa Allan (Abingdon Press)
Will the revelation of a 16-year-old secret shatter—or mend—a fragile marriage?
Like all marriages, Elle and Logan Butler's has its ups and downs. Yet they hang together, even as his political campaign escalates. But Elle has a secret that haunts her, one that she never thought would be revealed. It's a secret that has driven her from God and kept her from sharing her whole heart with the man she loves.
But now the secret must be told.
The news rips Elle's world apart as she struggles with painful memories and paralyzing fear of what will happen when she tells Logan. Every secret has consequences, and this one could destroy everything they've built.