April 22, 2014 – Two weeks from today is Chain of Mercy's official release date! Eek! It's still rather surreal–maybe it will become real once I actually hold a book in my hands and page through it, smell the paper, run my fingers over the cover. I can't wait!
In the meantime, the process has been picking up speed. In this past week alone …
I revealed the front cover to the public. Isn't it beautiful?!
I saw the full cover! Love it! The back cover just needs one important tweak before I can share it with everyone. The graphic at the top of this post gives you a peek at the back cover.
Chain of Mercy was listed on Amazon! Right now if you pre-order the paperback, it's a great price! Click <here> to go to Amazon.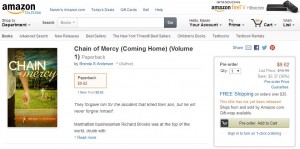 I created an Amazon Author Page. I'd love it if you'd *like* the page for me. 🙂 Click <here> to go to my author page.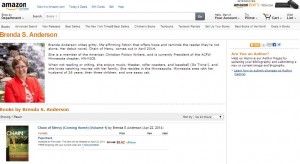 And …
I learned that Pieces of Granite, the prequel to Chain of Mercy in the Coming Home Series, has a scheduled pub date of September 16, 2014! Oh my!
Looks like my journey is just beginning. Thank you for joining me!