Only ONE MORE WEEK until the official release of Chain of Mercy! Woo hoo!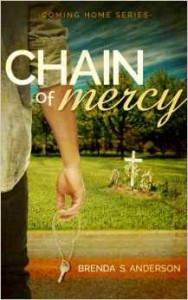 The paperback is currently for sale on Amazon as a pre-order. (Go here to order.)
I recently realized that you haven't been introduced to my main characters yet. Well, I have to remedy that! But rather than me telling you about them, I thought I'd give that job to Karla, the company gossip at Wharton Sports (where my hero and heroine meet). This is an article she would likely put in the company newsletter.
Who's Who at Wharton Sports!
by Karla the Gossip Girl
     If you've felt the temperatures rise in our old building these past few weeks, it could be because Wharton has a new janitor who actually knows how to fix things. Or it could be because that janitor is, well, that janitor is hot. RICHARD BROOKS looks more like he just stepped from the pages of GQ than from the custodial closet. Seriously! How a man can look that sizzling in metal grey, I'll never know, but he pulls it off. Haven't seen the guy around? Well, check out the pic of Eddie Cibrian (click here), and you'll know who to look for.
     Apparently he's a family man, too. Inside his locker he keeps pictures of a bunch of kids. Are they his? I don't know, the man didn't have time to talk to me, but he did gave a very polite refusal. The important thing is, ladies, he's not wearing a wedding ring!
     Since he didn't have time for me, I did a little checking up on him. He's a former Minnesota farm boy–guess that's where he learned to fix everything. But where he was in between the farm and now is a mystery. Ethan, our HR director, is very hush-hush about that, but you know me, I intend to keep hunting.
     Another mystery is the man's love life. I've caught him sharing "looks" with our Senior Sales Executive, SHEILA PETERSON, (who we all know is rebounding from her break up with the Minnesota Twins' outfielder), but the only non-work conversation I've heard them have is about baseball. Boring!
     Speaking of Sheila Peterson (think Bridget Moynahan with Jennifer Garner's dimples. See pic here), she refused to speak to me, and was outright snarky about it! Her history isn't a mystery (ooh, I rhymed!). She grew up in south Minneapolis, an only child, and she has a thing for Fig Newtons (really? Who craves Fig Newtons?!). She's a U of Wisconsin grad who's climbed the ranks here at Wharton. I wouldn't be surprised if she's got her eyes set on the CEO spot.
     Makes me wonder why she's casting those lingering stares at our new hire in the basement…