Thank You hardly seems adequate for the overflowing amount of well-wishes and encouragement and congratulations I've received during this past week. I'm abundantly blessed! And humbled. To think God can use a simple farm-girl-turned mom…
And that's a reason to celebrate! So, we're still celebrating here. Music is playing, I'm serving up healthy doses of chocolate, and the Giveaway is still running (until midnight Saturday, April 26, 2014!)
I've also had the privilege of visiting a number of blogs, many of which are also having giveaways.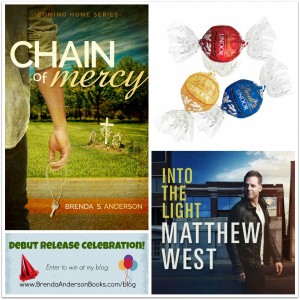 If you'd like to enter in my drawing to win an autographed copy of Chain of Mercy plus a bag of Lindor Truffles PLUS the Matthew West Into the Light CD, just fill in the Rafflecopter form below!
Again, I say Thank You!
All Glory to God!
Brenda