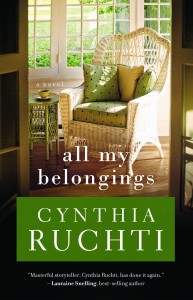 ALL MY BELONGINGS by Cynthia Ruchti (Abingdon Press) – Cynthia has fast become one of my favorite authors. She's not only gifted as a page-turning storyteller, but her prose sings beautiful music!
Jayne Dennagee has spent her life running from the "doctor death" legacy of her father. His Kervorkian-copycat methods of euthanasia ruined her childhood, covering it in shame. She won't let him steal her future, too. After changing her name to Becka, she assumes a new life and new job caring for the ailing mother of a handsome, young businessman, Isaac Hughes. Becka struggles to sort out her feelings for her new boss just as her patient passes away under unusual circumstances.
Suddenly, her past catches up with her and the unnerving details of her heritage make Becka look like a murder suspect. Worse, all sense of home and all hope for love vanish. Even if she could clear her name, a phone call from prison wraps a suffocating shroud around her heart. Her father is out–and he needs her help. Can Becka open her life to the man who has prematurely taken so many? Or will her father's legacy make it impossible to open her heart at all?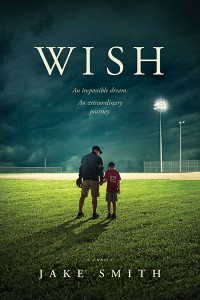 WISH by Jake Smith (Tyndale House) – The cover alone captivates me, and the story sounds like a tearjerker! I'm looking forward to reading this debut novel.
James McConnell's one wish is that his nine-year-old son will finally be healthy enough to play a game of catch. Then he and his wife, Emily, receive news they've dreaded: Aaron's cancer has relapsed.
As the family steels themselves for a draining treatment regimen in yet another hospital, Aaron receives the gift of a lifetime—a personal visit from one of his favorite professional baseball players—and the chance to make a bold request, his wish: to see his dad play in one major league game.
A former college standout, James fears he doesn't have the talent it takes, even for one game, and that he'll miss what could be Aaron's precious last weeks. Yet how can he refuse his dying son's wish?
Poignant and triumphant, Wish is the story of a father's love, a family's perseverance, and the miracles that can happen when you believe in the impossible.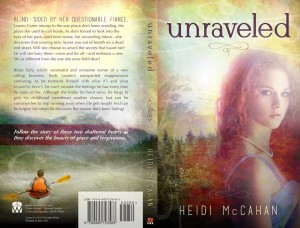 UNRAVELED by Heidi McCahan (Winslet Press) – Another debut novelist to take note of, and a fellow Winslet Press author. I'm anxiously awaiting the arrival of my copy!
Blind-sided by her questionable fiance, Lauren Carter returns to the one place she's been avoiding, the place she used to call home. As she's forced to look into the eyes of her past and even worse, her unraveling future she discovers that running only leaves you out of breath on a dead end street. Will she choose to unveil the secrets that haunt her? Or will she bury them once and for all and embrace a new life so different from the one she once held dear?
Blake Tully, wildly successful and breathtakingly winsome owner of a new rafting business, finds Lauren's unexpected reappearance confusing. As he torments himself with what if's and what should've been's, he can't mistake the feeling that crawls down his spine every time he looks at her. Although she broke his heart once, he longs to give his childhood sweetheart another chance, but can he convince her to stop running away when life gets tough? And can he forgive her when he discovers the reason she's been hiding?