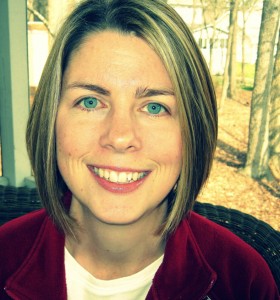 I'm very excited to welcome fellow Winslet Press author, Heidi McCahan, to my blog today! Heidi has also offered to give away a copy of her debut release UNRAVELED. See specifics below on how to enter.
Please welcome her!
Hi Heidi! Thank you for stopping by today. Can you tell my readers a little about yourself?
I'm a wife to one fabulous husband and a mother of three wonderful young boys. I'm also a Pacific Northwest girl transplanted in the South and when I'm not taking care of my family, I love a great cup of coffee and a good book.
Congratulations on your debut release! How exciting! Could you tell us about your journey to publication?
My kids are going to roll their eyes if they ever read this, but we didn't have any electronic entertainment when I was a preschooler. I don't think I watched TV until third grade. I was fascinated by books and had a very active imagination. I can't remember a time when I wasn't making up stories in my head. I had lots of unfinished stories written down and shoved under my bed. But sports and an interest in health care captured my attention in college and I had a brief career as a Certified Athletic Trainer. It wasn't until three years ago when an idea that I'd saved on my computer's hard drive really started coming to life. While I certainly can't claim that I heard an audible voice from God, I did feel like it was time to use the gifts He had given me instead of letting my own fear and doubt hold me back. So I wrote a lousy rough draft, entered a few contests and hired a freelance editor to help me polish the story. Unraveled found a publishing home with Winslet Press last Christmas and was released April 29th.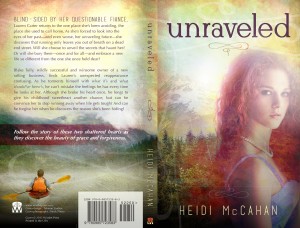 What inspired UNRAVELED?
I grew up in a family business in Alaska and during the summer tourism season, we met a lot of very interesting people. I thought it would be interesting to write a story about a girl who thought she wanted to escape all of that. While Unraveled is fiction, it is inspired by the people and the breathtaking scenery of the place I will always call home. However, early in the novel, a character calls the heroine by the wrong name and the whole story went in a completely different direction.
That's what I love about writing stories! They tend to take us on journeys we don't anticipate. What are you working on right now?
In the midst of re-writing Unraveled, I came across a prompt for a story set in Tokyo, involving a bat, a bell, and an angel. That inspired my current WIP, a sweet romance about a beautiful female sportscaster pursuing an interview with a reclusive American baseball player who is attempting to re-start his career in Japan. It's been an absolute blast to write and I kind of hate to see it end. But I also think it's a great story and I'd like to share it with my readers.
Sounds fascinating to me! Which authors do you enjoy reading? Have any influenced your writing?
Someone gave me a copy of Catherine Marshall's Christy when I was a teenager. I remember finishing it and dreaming of writing a novel like that one day. I'm not at all suggesting that I can compare my writing to the brilliant Catherine Marshall, but that whole story inspired me to keep putting ideas on paper. I like Denise Hunter and Lisa Wingate's novels very much, as well as Nicholas Sparks and Jan Karon. Their ability to take us deep into the lives of their characters is so enjoyable.
What's on your reading list right now?
Too many great books. Ha! I'm a voracious reader. The Fault In Our Stars (John Green), Lost Lake (Sarah Addison Allen), Bloom (Marilyn Grey), Chain of Mercy (Brenda S. Anderson), Meant To Be Mine (Becky Wade).
Sounds like a great list. I just finished Becky Wade's Meant to Be Mine. So far, it's my favorite novel from 2014. And my daughter recently picked up an autographed copy of The Fault in Our Stars from a Tardis Free Little Library. 🙂 When you're not writing, what do you enjoy doing?
In addition to reading and watching sports, I like to scrapbook. Although I don't have much time for it these days. There's something about archiving our family memories that appeals to the storyteller in me.
We share a love of baseball. Which team do you follow? Do you have a favorite player?
I will always be a Seattle Mariners fan. Jamie Moyer was my favorite player for a long time. But he's retired now so I guess I'll have to declare a new one. I enjoy watching Max Scherzer pitch, but I can't honestly say that I watch a lot of Detroit Tigers games.
And the most important question: milk chocolate, dark chocolate, white chocolate, or no chocolate?
I've never met a piece of chocolate I didn't like, but if I was forced to choose, I'd go with dark chocolate.
~~~
About Heidi~
A Pacific Northwest girl at heart, Heidi was blessed to spend her childhood in Alaska. After a brief career as a Certified Athletic Trainer, Heidi married her husband, Steve. They live in North Carolina with their three boys. Heidi is a big fan of coffee, dark chocolate and heartwarming romance.
About UNRAVELED~
Blind-sided by her questionable fiance, Lauren Carter returns to the one place she's been avoiding, the place she used to call home. As she's forced to look into the eyes of her past and even worse, her unraveling future she discovers that running only leaves you out of breath on a dead end street. Will she choose to unveil the secrets that haunt her? Or will she bury them once and for all and embrace a new life so different from the one she once held dear?
Blake Tully, wildly successful and breathtakingly winsome owner of a new rafting business, finds Lauren's unexpected reappearance confusing. As he torments himself with what if's and what should've been's, he can't mistake the feeling that crawls down his spine every time he looks at her. Although she broke his heart once, he longs to give his childhood sweetheart another chance, but can he convince her to stop running away when life gets tough? And can he forgive her when he discovers the reason she's been hiding?
Follow the story of these two shattered hearts as they discover the beauty of grace and forgiveness.
Get in touch with Heidi~
Where to purchase UNRAVELED
*** Book Giveaway ***
Heidi has graciously offered to give away (1) copy of her debut release UNRAVELED (US ship only).
To enter, in the comments section, please let us know if you enjoy baseball and, if you do, what is your favorite team?
This contest ends Sunday, May 18, 2014 at 11:59 pm CST. I will post the winner on Monday, May 19, 2014. Winner will be chosen via Random.org.