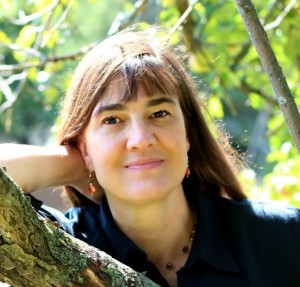 I'm excited to welcome Naomi Musch to my blog! Naomi is one of those gifted authors who excels in writing across genres. She has previously published historical and women's fiction, and her latest release Trevelyan is considered Young Adult / New Adult (fantasy). I can't wait to read it!
Naomi  has graciously offered to give away an ebook copy of Trevelyan. To enter, see rules below.
And now, here's Naomi!
Thank you, Naomi, for taking time for this interview! So glad to have you visit! Can you tell my readers a little about yourself?
I've always been a writer, and since guidance meant a lot to me when I was a young adult, I love mentoring young writers and have done that through online tutorials, teaching homeschool writing classes & writing round tables, and this summer taking on a college writing intern. I write in a variety of genres, with my main love being the American historical genre.

Trevelyan – A Tale of Beauty & the Beast is my first foray into the young adult/new adult (fantasy) sphere with a retelling of my very favorite fairytale. It's so exciting to have closure on this book I first penned years ago and read aloud to my own kids during our homeschooling hours. They're all grown up now, but I still enjoy remaining involved in the homeschooling community of which our family has been a part for many years.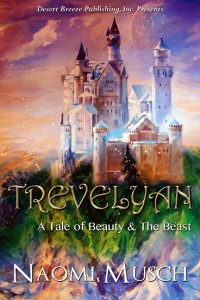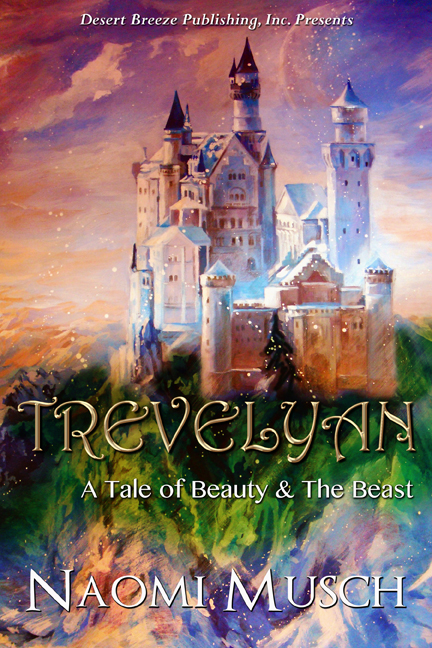 Congratulations on your new release, Trevelyan! How exciting! (And I LOVE that cover! Beautiful! And eye-catching!) What inspired this novel?
Thank you! I love the cover too. Carol Fiorillo, one of the Desert Breeze cover artists did it. I appreciate her attention to detail and color.

Long before Disney produced it's now classic, animated version of Beauty and the Beast, I fell in love with the fairytale. For most of my younger life I collected various children's versions of the book, but I was never 100% satisfied that the story was complete. I always believed there should be more. When I learned that the original French version written in the 1600s was over 400 pages long and contained a saga of warring fairies, my imagination inflamed. I knew I had to write a version to fill in those gaps of the unknown, if only for myself and my children. Thus Trevelyan was born. I wrote the first draft more than 20 years ago, before the Disney movie came out, and it contains scenes you've not heard of before — scenes involving those warring faeries, a wizard, elves, swashbuckling heroes, Belle's five siblings, and more.
That sounds fascinating! What are you working on right now?
My iron is in several fires. Besides endeavoring to spread the word about Trevelyan, I'm slowly working on the first draft of a post-WWII romance called The Love Coward. I also have a completed early American, Great Lakes historical called Mist O'er the Voyageur that I haven't tried to place with a publisher yet. On the back burner, I'm doing an entire rewrite of my first, now out of print novel called The Casket Girl which I would like to re-release independently – complete with new scenes and a few other changes.
Which authors do you enjoy reading? Have any influenced your writing?
I love getting into big historicals and sagas with a strong romantic thread usually centered around an epic time period like a great war or other historical incident. A few of the authors I enjoy right now include Sarah Sundin, T.L. Higley, Susan Warren, April Gardner, Tommie Lyn, Laura Frantz, Julie Klassen… (there are so many more!) In the same way, there are a lot of authors who have influenced my writing and still do. Bodie Thoene, Angela Hunt, and Francine Rivers are three modern authors who've been a huge influence, as well as other writers over the years who work in various genres — Allen Eckert's creative, non-fiction historicals, Tolkien's fantasy, Godwin Parker's retelling of Robin Hood in Sherwood, and Bette M. Ross's historical, inspirational fiction, to name a few.
What's on your reading list right now?
I just finished Anna Schmidt's WWII novel All God's Children which was quite good, and I'm just beginning Ruth Axtell's In Your Eyes – another historical romance. After that I think I'll be reading some of the books on this year's Grace Awards winners and finalists list.
When you're not writing, what do you enjoy doing?
I spend a lot of time with my grandson whom I babysit a couple days a week and with his two school-aged sisters whenever I can. I have a new grand-daughter only three weeks old, and we're expecting three more babies this summer, so… I'm very excited! I also really love being outside. We don't raise much on our farm these days, just a few chickens, but I love to dig around in the dirt and wander around the property a lot.
Wow! All those grandbabies already and more coming? Seriously, you don't look old enough to have one grandchild!
And now, the most important question: milk chocolate, dark chocolate, white chocolate, or no chocolate? 🙂
Ah… the big question! I can't eat a lot of chocolate because it gives me headaches. Can you believe that? Now and then it's great, but because of that reaction, I'm not a big craver of chocolate. However, white chocolate doesn't cause a problem, so I love a tall, white chocolate caramel mocha. Yum!
About Naomi~
Naomi writes from the pristine north woods of Wisconsin, where she and husband Jeff live as epically as God allows on a ramshackle farm where they spend quality time with their children and grandchildren. Amidst it, she writes novels about imperfect people who are finding hope and faith to overcome their struggles.
In non-fiction venues, Naomi spent five years as a staff writer for the EPA award-winning Midwestern Christian newspaper, Living Stones News, telling true-life stories of changed lives. She has also written dozens of magazine and internet articles for the purpose of encouraging homeschooling families and young writers.
She invites readers to say hello and find out more about her books, passions, and other writing venues at https://www.naomimusch.com or to look her up on Facebook (Naomi Musch – Author) and Twitter (NMusch).
About Trevelyan~
Swashbuckling heroes and elven princes journey to rescue Belle from captivity. For the Beast of Trevelyan and Evensong's faeries, time for redemption is running out.
Five men and two elven princes have embarked upon a quest: to save a sister from the wasteland of the Great Winter where she is held in the clutches of a Monster Lord who all believe brought desecration and ruin to the once glorious kingdom of Trevelyan. It is a land where hideous creatures and madness prey upon the careless, a land where faerie magic has taken an evil turn. For fifty years, no man or ally of men has been safe beyond the Cranreuch Plain.
Until Belle's choice leads them all to discover the truth.
Now rescuing her might come at a cost no one expects — and from an evil no one but a princely beast and the faeries of Evensong ever anticipated.
Where to Purchase Trevelyan~
More books by Naomi~
PAINT ME ALTHENA – contemporary women's fiction about a runaway wife's search for identity, and discovering faith and rekindled love.
EMPIRE IN PINE Series – a generational family saga of lumberjack adventure and romance in 1800s Wisconsin.
HEART NOT TAKEN – a contemporary novella of buried indiscretion, forgiveness, and new love.
Where to reach Naomi~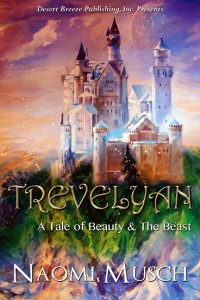 >>>Book Giveaway<<<
Naomi has graciously offered to give away one ebook copy of Trevelyan. To enter, in the comments below, please tell us what your favorite fairy tale is.
This contest ends Sunday, June 1, 2014 at 11:59 pm CST. I will post the winner on Monday, June 2, 2014. Winner will be chosen via Random.org.