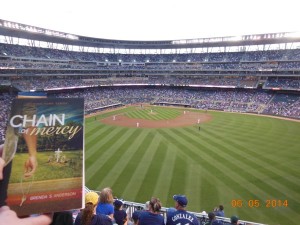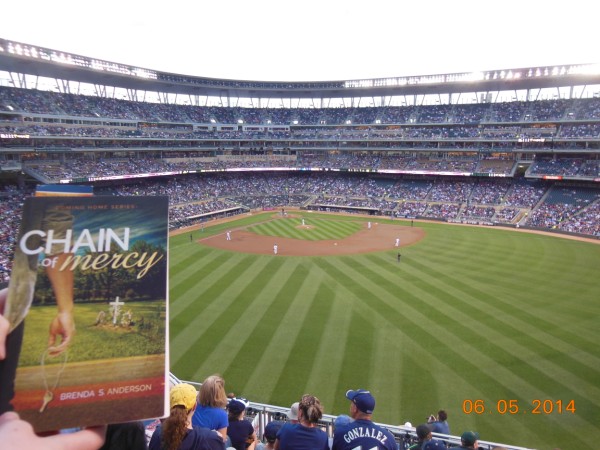 One of the things I enjoy about being an author is placing my characters in some of my favorite Minnesota locales. That's something many of my readers have commented on–they've loved revisiting those sites in my book.
One location that plays a significant role in Chain of Mercy is Target Field, the home of our Minnesota Twins. (One of the best places to watch a baseball game!) Last Thursday, our family celebrated birthdays and graduations and Father's Day and book releases at a Twins game. Since two scenes take place at Target Field, I had to bring my book along and get a picture!
And I had to find the seats where my character, Sheila Peterson, holds season tickets. These are cushioned seats located right behind the first base dugout. Wish I could have watched the game from there! Maybe someday. 🙂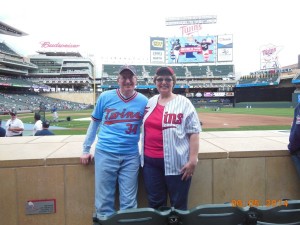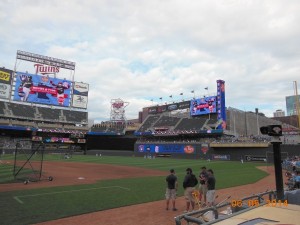 Now, I did take a few liberties with the setting, particularly a scene that takes place in the concourse, but that's authorial privilege, right? (Oh, in case you were wondering, we lost the game. 🙁 But one of our guys hit a grand slam which was sweet to see.)
Question for you: Do you enjoy reading about familiar settings in novels? What's one place you'd like to visit in a book?