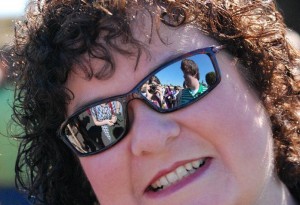 I'm excited to introduce you to Linda Fulkerson today. I met Linda as a fellow blogger at Inkspirational Messages. Not only is Linda a blogger, but she's our web guru–we'd be completely lost without her! And now she's launched a Marketing for Christian Writers website that offers a wealth of info for us marketing-weary authors.
With that, I'll turn to floor over to Linda so she can tell you all about it!
I want to thank Brenda for sharing her blog space with me today. If you haven't yet had a chance to visit the Marketing for Christian Writers website, I'd like to personally invite you to, as we say in the South, sit a spell.
The purpose of this program is to help train Christian writers, bloggers, authors, and speakers to become more effective marketers in order to spread the good news to the world. If we're better at promoting our words, more people can be reached with HIS.
There are lots of resources available on the website – Today's Tips, Weekly Polls, a podcast (you can subscribe via iTunes), devotionals, and a FREE instant downloadable report, "102 Ways to Market Your Stuff." We're also running around the web on about a half-dozen social media sites, so please connect with us on your favorites. And finally, we're preparing to launch an exclusive members' area, hopefully within the next week.
Show – Don't Tell
Writers have had the "show, don't tell" mantra embedded into our heads from the first day we picked up a pencil. However, we don't always incorporate the show-don't-tell principle into our marketing.
Video marketing is a great way to do that. People LOVE videos! In fact, recent statistics show that 78% of Internet users watch videos at least once per week, and 55% watch DAILY. If you do the math on how many viewers that is . . . well, it would make my brain hurt!
The point is – video is hugely popular, and it is an effective marketing tool.
What are the benefits of using video in our marketing strategy?
Easy of ranking for specific keywords because there is less competition than standard content (i.e. text)
Videos are shared frequently, so viral opportunities are enhanced
Video keeps viewers on your website longer, which decreases your bounce rate
Video levels the playing field and allows you to compete with big names in your genre
Video can entertain, inspire, educate – or all three!
Your success can be measured with analytics tools
What types of video would benefit Christian writers in their marketing?
Product un-boxing
Book trailers
Book excerpts/readings
Reader testimonials
Explainer videos (how-tos)
What tools can be used for creating videos?
Smart phones
Video cameras
Video creation software included in many computers
Slideshow software, such as Animoto
Whiteboard video software
Animated video software
Screen capture software
Professional video production software, such as Adobe After Effects
And more!
How do you get started using video in your marketing?
One of the first steps I'd recommend is to create your own business YouTube channel. It's free and not hard to configure. Publishing your videos to YouTube will save you disk space and bandwidth, plus your videos can be searched in YouTube's directory.
If you're not sure how to get started with YouTube, I just posted a couple of tutorial videos on the Marketing for Christian Writers YouTube channel – How to Customize Your YouTube Channel and How to Upload and Optimize a YouTube Video. And we'll be offering more training about how to use video for marketing future content on the site.
Thanks for taking the time to read this post, and I look forward to connecting with you in the Marketing for Christian Writers community!
Have a blessed day,
Linda Fulkerson
About Linda~
Linda Fulkerson, blog coach and marketing strategist, is the founder of Marketing for Christian Writers, an organization dedicated to helping Christian writers, authors, bloggers and speakers promote their words in order to help spread the message of God's love to the world. Linda has nearly 15 years experience helping authors market their words. She is the former director of digital services for the largest media group in central Texas and is the owner of DLF Digital Services LLC. Linda and her husband live on a hobby farm in central Arkansas. They have four grown children and seven grandchildren.