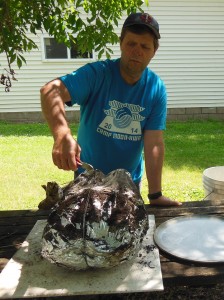 Yes, it is book-talk Tuesday, and yes I will be talking turkey, and yes, the two do go together! If you give me a moment, I'll explain.
First off, on Sunday, my family celebrated my mom's birthday. We're talking 37 people counting my folks, siblings, siblings-in-law, nieces and nephews, and a couple of in-laws' parents. A nice cozy gathering, very typical for my family. 🙂
The day began at my parents' church where the majority of us "kids" (31 of us!) formed the Bryant Family choir (singing Beautiful Savior and What a Friend We Have in Jesus) while Mom & Dad (and the congregation) listened. Following church, we gathered at my parents' home where home-fed ham and ground-cooked turkey awaited us. Yum!
Besides enjoying delectable food, we all had to trek out to my dad's shed where six recently-born kitties awaited us. We do love our cats! Then that afternoon, God blessed us with perfect outdoor weather, so we spent much of the day having a bean bag toss competition. I'm happy to report, that my team didn't lose in the first round. 😉
Now, what does this have to do with books? Well, in one of the scenes in Chain of Mercy, the family is making a ground-cooked turkey, so naturally, I had to take a pic of my book along with the turkey oven. See, I said I could connect the two!