I'm fortunate to be part of a fantastic local writers group, MN NICE (Novelists Inspiring Christian Excellence), the Minnesota chapter of ACFW (American Christian Fiction Writers). We're scheduled to meet once per month–usually we invite a speaker or teacher to share with us, but about once a year we escape the meeting room and take a field trip. (Is that what they're called when adults take them?)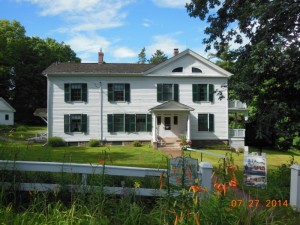 Anyway, as someone who absorbs more when learned outside of the classroom, I was thrilled to be able to make the trek up to Taylors Falls, MN to tour the Folsom House.
This house on Angel Hill was completed in 1855 by lumber baron William Folson, who came all the way from Maine. Folson's interests stretched far beyond lumber as he invested in many local enterprises and was even involved in politics. He really was a jack-of-all-trades.
Our tour guide was not only knowledgeable about the home and the Folsom family history, but he was clearly passionate about it, excitedly pointing out Folsom artifacts and sharing family anecdotes.
So, if you ever find yourself in Minnesota, it's worth a drive to beautiful Taylors Falls to check out this home. (Oh, and I'd highly recommend grabbing some hard ice cream from Schoony's Malt Shop while you're there!)
What sites do you love to explore in your area?