August is a very light month for new releases that interest me. No contemporaries, which are always my favorite, but there are a couple of historicals by seasoned authors, that I would recommend.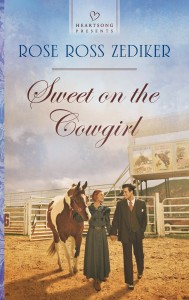 SWEET ON THE COWGIRL
by Rose Ross Zediker
Heartsong Presents
Rose is a fellow contributor at Inkspirational Messages. This is her second release this year! Way to go, Rose!
About the story:
Laura Barnes Wants to Be a Cowgirl
Laura has always dreamed of being a trick rider in her family's Wild West show. But her father will only allow her to perform if she disguises herself as Mr. Buckskin Jones. When soda-pop king Guy Roberts shows up to do business with her family, Laura is torn between keeping her identity under wraps and revealing her growing feelings for Guy.
Guy is drawn to Laura's poise and beauty, but he, too, guards a secret. As their affection for each other grows, Guy begins to think about a future that includes Laura. When both their secrets suddenly come to light, their romance will face the ultimate showdown.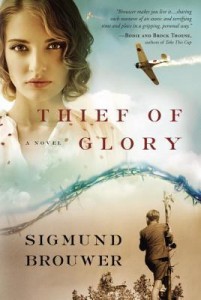 THIEF OF GLORY
by Sigmund Brouwer
WaterBrook Press
A prolific author, Brouwer seems to write everything. He's written Biblical, spec, contemporary, western, YA, youth, and more. I'm not a big fan of WWII fiction, but this story intrigues me.
About the story:
A boy coming of age in a time of war…
the love that inspires him to survive.
For ten year-old Jeremiah Prins, the life of privilege as the son of a school headmaster in the Dutch East Indies comes crashing to a halt in 1942 after the Japanese Imperialist invasion of the Southeast Pacific. Jeremiah takes on the responsibility of caring for his younger siblings when his father and older stepbrothers are separated from the rest of the family, and he is surprised by what life in the camp reveals about a woman he barely knows—his frail, troubled mother.
Amidst starvation, brutality, sacrifice and generosity, Jeremiah draws on all of his courage and cunning to fill in the gap for his mother. Life in the camps is made more tolerable as Jeremiah's boyhood infatuation with his close friend Laura deepens into a friendship from which they both draw strength.
When the darkest sides of humanity threaten to overwhelm Jeremiah and Laura, they reach for God's light and grace, shining through his people. Time and war will test their fortitude and the only thing that will bring them safely to the other side is the most enduring bond of all.