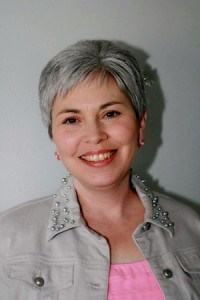 I've had the great pleasure of getting to know Rose Ross Zediker through Inkspirational Messages. 2014 has been a pretty good year for Rose with two novels releasing, THE WIDOW'S SUITOR in February, and now SWEET ON THE COWGIRL this month, and, as you'll see below, 2015 promises to be even busier!
Rose graciously took a few minutes out of her schedule to chat with me, and she's also generously offered to give away one copy of Sweet on the Cowgirl! (Details below) Please welcome her!
Hi Rose – thanks for stopping by today! Could you tell my readers a little about yourself?
My husband and I have been married thirty-two years. We have a son, daughter-in-law and two very precious granddaughters.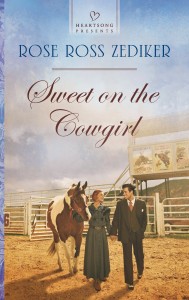 Congratulations on your newest release, Sweet on the Cowgirl! I'm so excited for you and can't wait to get my copy! Can you tell us about the story?
Laura Barnes Wants to Be a Cowgirl – 
Laura has always dreamed of being a trick rider in her family's Wild West show. But her father will only allow her to perform if she disguises herself as Mr. Buckskin Jones. When soda-pop king Guy Roberts shows up to do business with her family, Laura is torn between keeping her identity under wraps and revealing her growing feelings for Guy. Guy is drawn to Laura's poise and beauty, but he, too, guards a secret. As their affection for each other grows, Guy begins to think about a future that includes Laura. When both their secrets suddenly come to light, their romance will face the ultimate showdown.
What inspired this novel?
I was visiting the Casey Tibb's Rodeo Center Pierre, SD where there is a wing for Mattie Newcombe, a South Dakota trick rider.
Sounds like a fun place to visit!
Could you tell us about your journey to publication?
I started writing in 1991 and found success in the Christian children's magazine markets before turning my attention to inspirational romances in 2010.
What are you working on right now?
I am working on a four book contemporary rodeo series. The first book has characters in the forties and will release in April 2015. I've also been contracted to write a historical novella for Barbour Publishing to be included in a collection, also releasing next year.
Wow! You are going to be very busy! I LOVE that you're writing about characters in their 40's–that's so different from what we usually find, and that demographic has a completely different set of challenges.
Which authors do you enjoy reading?
I'm a very eclectic reader. I do enjoy Melody Carlson and like how varied her writing is. I'm a huge fan of E. J. Copperman's Haunted Guest House cozy mysteries.
Have any influenced your writing?
I think all good writers influence other writers. We are always studying how someone handles description or turns a phase, whether conscious or sub-conscious.
So true! What's on your reading list right now?
Chain of Mercy, A Bride for All Seasons, Redeeming Love, and many, many more!
That is an eclectic list, and, may I say, I'm slightly partial toward Chain of Mercy. 😉
When you're not writing, what do you enjoy doing?
I love to sew, make quilt tops and embroidery. And, of course, spoil my granddaughters.
Sounds wonderful!
And the most important question: milk chocolate, dark chocolate, white chocolate, or no chocolate? 🙂
Dark chocolate
About Rose~
Rose Ross Zediker lives in rural south eastern South Dakota and works full time for at The University of South Dakota. Rose uses her evenings and weekends to write. Besides writing inspirational romance novels, Rose has many publishing credits in the Christian children's genre. She is a member of the American Christian Fiction Writers and SCBWI.
Where to reach Rose~
Where to purchase Sweet on the Cowgirl~
Amazon | Barnes & Noble | CBD
More books by Rose~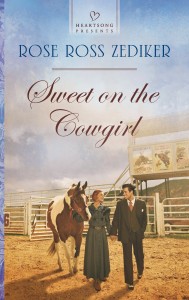 >>>Book Giveaway<<<
Rose has graciously offered to give away one copy of Sweet on the Cowgirl! To enter, in the comments below, please tell us what your favorite flavor of pop / soda is.
This contest ends Sunday, August 17, 2014 at 11:59 pm CST. I will post the winner on Monday, August 18, 2014. Winner will be chosen via Random.org.