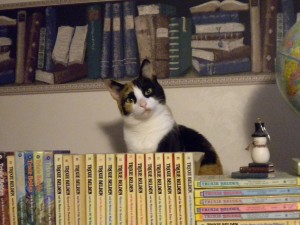 I love watching our cat, Kisses. She's totally got a *catitude*. One minute she's jumping on your lap and swabbing your face in kisses, then suddenly she's nipping at your fingers.
During the day, she sleeps and sleeps and sleeps and looks adorable doing so, curled up in a ball on my office chair or stretched out on our bed. But when she wakes up, it's play time. My husband, Marvin, is her favorite toy. He may complain about the pain she inflicts, but then he's the one who scratches the couch to get her to chase his hand. I don't feel sorry for him. Nope, not one little bit.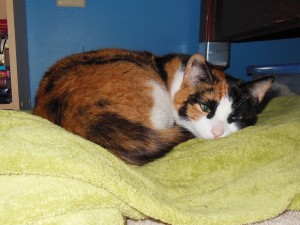 Come evening, she begs for her daily cuddle. Usually with our youngest. She reaches up to him to get picked up, then she drapes herself over his shoulder, all four legs and paws stretched out in absolute contentment.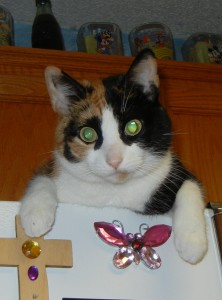 And, of course, there's the cat curiosity. Is that a new piece of paper on the floor? I better go lay on it! Oh, the cupboard door's open! Finally, I have permission to explore! Cool, you got me a new box! I better jump in it and check it out! You get the picture …
They say a cat has nine lives? Not only that, it's got nine personalities for each of those nine lives. And I love every one of those personalities. (Well, maybe not the "I want to eat you." personality.)
The thing is, all those personalities are typical for a cat. Am I right? Kisses isn't doing anything–she isn't being anything other than what God created her to be. She doesn't try to be a dog or a mouse or a bird or a human. She is herself, and that's all she ever will be, and we love her just the way she is!
Why can't people be like that?
Why can't I be like that?
All too often I'll look at someone else and say, "I wish I had their charisma" or "Why can't I write like Charles Martin?" or "What I'd give to sing like Sandi Patty!"
I wonder what God thinks when we're not happy with how He created us? What does He think when we don't appreciate and use the gifts and talents He gave us? Why can't we be content just being ourselves?
Just imagine how God can use us when we love who God created us to be! I'm not there yet, and maybe I'll never be there this side of eternity, but I'll always keep striving to just be me.
For you created my inmost being;
you knit me together in my mother's womb.
I praise you because I am fearfully and wonderfully made;
your works are wonderful,
I know that full well.
My frame was not hidden from you
when I was made in the secret place,
when I was woven together in the depths of the earth.
Your eyes saw my unformed body;
all the days ordained for me were written in your book
before one of them came to be.

Psalm 139: 13 – 16