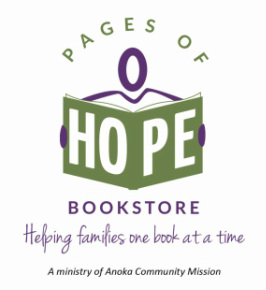 As a book lover, I'm always thrilled when I discover an organization whose goal is to serve the community via the written word. Such organizations are rare, so when I discovered one practically in my own back yard, I got a little giddy.
Naturally, I contacted them and then had the pleasure of meeting with Glenda (works with Pages of Hope) who told me more about their ministry.
Pages of Hope Bookstore is one of the many ministries in the Anoka Community Mission (there's even a ministry that collects LEGOs–The Brick Depot. LOVE that!). Pages of Hope collects classic children's books and used Christian books and resells them to help support the Anoka Community Mission. Another goal of this ministry is to get out in the community and area schools, helping generate the love of reading.
Right now, book sales occur once per month, the next being October 18 (10 – 4), in the Old Post Office building in Anoka. I plan on being there.
So if you have classic children's books or Christian books laying around–if you're a reader and/or writer, I know you do!–then here's the perfect place to donate them. What a great way to encourage reading AND help our the community!