***Book Giveaway***
See contest rules below
~*~*~
Alice Wisler is one of those gifted authors who could write in any genre, and I would love her works. Not only is she an excellent storyteller, but she has a melodic writing voice that sings off the pages. I'm so excited to have Alice visit my blog today! Her latest novel, UNDER THE SILK HIBISCUS, is scheduled for release on November 19. I can't wait to get my copy!
Please welcome, Alice Wisler!
Hi Alice! Could you tell my readers a little about yourself?
I grew up in Osaka, Japan as a missionary kid.  I loved writing stories on the train rides home from school.  Now I live in Durham, NC.  I write, teach writing through grief workshops, and speak at conferences.

My husband and I have a wood carving business, Carved By Heart.  We carve customized plaques, house number signs, clocks, and remembrance items.  Well, he carves; I promote and am the admin person.  Our business is new; we need all the help we can get.  Here's our shop on Etsy: https://www.etsy.com/shop/carvedbyheart
What beautiful artwork, Alice! I especially love the log cabin mailbox. 🙂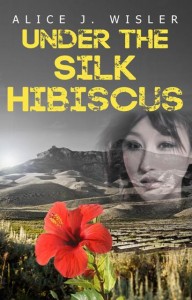 And congratulations on your new release! How exciting! Can you tell my readers about Under the Silk Hibiscus? What inspired this book?
I think our US history has tried to hide what happened to a segment of our population during World War II.  After the bombing of Pearl Harbor, Japanese-Americans posed a fear in the hearts of many Americans.  Those of Japanese descent living on the west coast were sent to internment camps.  I have friends whose parents were in these camps.  The whole situation intrigued me for a variety of reasons.
That's a very intriguing topic, and you're right, not much is said about the Japanese internment. I did read another novel that touched on it, Hotel on the Corner of Bitter and Sweet by Jamie Ford. An excellent read.
Could you tell us about your journey to publication?
I tend to think my manuscripts are ready before they are. So with my first novel, I sent it out to agents way too early. I kept getting rejections. One agent told me she couldn't identify with the narrative voice of my character, Nicole. And after reading a few chapters, I thought, neither can I. So I changed the voice, rewrote most of the novel, and sent it to a potential agent. She liked it and wanted to see the whole thing. But I hadn't written the whole thing in the current narrative!  I used every waking moment when I wasn't at my day job or caring for my three kids to get my manuscript completed. The agent liked it and asked to represent me. Eight weeks later we were offered a contract by Bethany House for two novels.
What are you working on right now?
I'm working on a memoir about a flawed marriage redeeemed (No, it's not about my first marriage that ended in divorce, but about the one I'm in now). Writing it has been a tough task. Being authentic and honest are not usually easy for me.  But I'm trying.
And I'm certain that writing openly like that hurts, but is also a catharsis.
Which authors do you enjoy reading? Have any influenced your writing?
Elizabeth Berg was a big influence for my first novel, Rain Song.  Amy Tan's The Joy Luck Club influences me every two years or so when I re-read it.
Both are excellent authors! What's on your reading list right now?
I'm reading Sophy Burnham's For Writers Only once again.  This is a great book every writer should read as it depicts the struggles and joys we authors face. We are a strange breed and understanding our kind does help.
I hadn't heard of that book before. It's going on my must-read list. Thank you!
When you're not writing, what do you enjoy doing?
I like to go on walks through trails.  I also enjoy making bread and coming up with my own bread recipes.  Some fail; most are very tasty.
And the most important question: milk chocolate, dark chocolate, white chocolate, or no chocolate?
My husband's favorite is dark and I think I'd have to admit that after being married to him for almost six years, dark chocolate has become my favorite, too.
Thank you again, Alice, for stopping by today! It's a joy getting to know you better!
About Alice~
Alice has authored four contemporary novels published by Bethany House:  Rain Song (Christy Finalist), How Sweet It Is (Christy Finalist), Hatteras Girl and A Wedding Invitation, and Still Life in Shadows by River North/Moody. Her newest novel, Under the Silk Hibiscus (Lighthouse Publishing of the Carolinas) is her first historical romance.
Since the death of her four-year-old son, Alice teaches grief-writing workshops and her devotional, Getting out of Bed in the Morning:  Reflections of Comfort in Heartache (Leafwood), covers the many losses we face and how God sustains us through each one.  In 2012, Alice and her husband started a business, Carved By Heart, where they carve memorial plaques/remembrances, house number signs, bird feeders, rustic clocks, and other home décor.
About Under the Silk Hibiscus~
During World War Two Nathan and his family are sent to Heart Mountain, an internment camp in Wyoming for Japanese-Americans. Nathan's one desire is to protect the family's gold pocket watch, a family heirloom brought over from Japan. He fails; the watch is stolen. Struggling to make sense of his life in a bleak camp as the only responsible man of the household, Nathan discovers truths about his family, God, and the girl he loves.
Purchase Under the Silk Hibiscus~ on Amazon
Get in touch with Alice~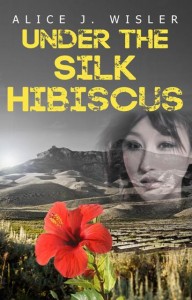 >>>Book Giveaway<<<
Alice has graciously offered to give away on e-book copy of Under the Silk Hibiscus! To enter, in the comments below, please tell us what is your favorite item Carved by Heart, the business run by Alice and her husband.
This contest ends Sunday, November 16, 2014 at 11:59 pm CST. I will post the winner on Monday, November 17, 2014. Winner will be chosen via Random.org.