***Book Giveaway***
Enter Below
~*~*~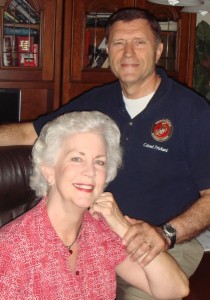 About eight years ago while attending the Write His Answer Conference in Estes Park, Colorado, I had the honor of meeting Stephanie and Don Prichard, a couple penning their first book together. We reconnected a year or two later at the same conference where we were enrolled in the Nangie class (Nancy Rue and Angela Hunt). Since then I've been blessed with not only a hawk-eyed, grammar-guru critique partner (Stephanie), but I've made lasting friends.
A few weeks back, Don and Steph released their debut novel, STRANDED, a page-flipping, tension-laced adventure that even has a touch of romance. (Read my review >here<) It's also a novel that holds appeal across gender–not an easy feat! Best of all, it's a story of redemption.
So, I'm absolutely giddy to introduce you to my friends, Steph and Don Prichard!
Don and Steph, I'm soooo excited to introduce you to my readers! Can you tell them a little about yourselves?
Steph: I'm an army brat, so I grew up living in different countries around the world (fave was Italy). When I married Don, I put down roots in Indianapolis, IN, and stayed home to raise our three spunky kids. Now that our nest is empty, I've loved co-authoring Don's and my first novel. Oh, and I'm passionate about grammar.
Don: I'm a graduate of Drake University (math major) and Iowa State University (architecture major). Retired from USMCR at the rank of Colonel (32 years), and licensed architect (35 years). Stephanie and I met at Drake and have been married 49 years.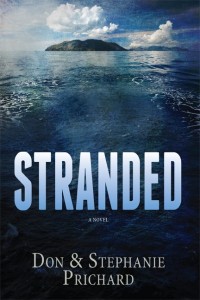 49 Years? Wow! Congratulations!
And congratulations on your debut release, Stranded! (Snoopy dancing here! :D) Could you tell us about your journey to publication?
Don: Thank you, Brenda. It's the only dance I know how to do. Our journey began In the fall of 1999, when a storyline started going through my head and I wrote it down as it developed. On February 8, 2000, I had a stroke and lost all ability to read. Turned out the story was the best therapy for regaining my reading skills. For the next year I got up and wrote from 4 to 6 AM before going to work. During that year I wrote the rough draft of a story that comprised three novels. Stranded is the first portion of that story. Eventually I asked Stephanie to help me, and we evolved into co-authors.
Steph: As an English/Literature major, I thought I knew how to write a novel, but at my first writers conference (where I met Brenda), I learned I didn't. I joined a critique group, took online classes, and attended writing conferences with Don, but it wasn't until Brenda started mentoring me that I really made headway (thank you, dearie!).
You're welcome! I can relate to you–I'm a literature major and also discovered I had no clue how to write a novel! Glad we learned together!
What inspired Stranded?
Don: As a young boy I felt abandoned by God. Later I realized He was guiding me to do things I never thought possible. Stranded incorporates this spiritual struggle, as well as survival knowledge I gained from my Marine Corps training.
Is this part of a series?
Steph: Stranded is a stand-alone novel, but Don has four sequels in the wings in hopes readers will demand them.
You wrote this book together. Could you describe that process?
Steph: Don produced the initial draft. Later, when he asked me to help him, I had to decide whether to simply correct the grammar and spelling or join him as a co-author. A friend gave us Story by Robert McKee to read, and that made my choice. We fell in love with working together to mold the story into a baby Frankenstein and eventually a mature Adonis, ha ha. I ended up doing the writing while Don gave me feedback on being a man and a Marine.
Don: At first it was hard to trust her with my baby (really, Steph, a Frankenstein?), but as we progressed I realized she was making it ten times better as she melded it into hers and mine.
Many of us (that means me) can relate to penning that baby Frankenstein! Glad you could shape it together. 🙂
What are you working on right now?
Steph: A sequel to Stranded.
Don: My memoir about a barefoot farm boy enabled by unusual circumstances to go to college and become a Marine.
I can't wait to read both!
Which authors do you enjoy reading? Have any influenced your writing?
Steph: Anymore, I'm pretty eclectic, but I love a good dystopian. Having to learn to write all over again (c'mon, I got A's in college!), I can't say any one author influenced my writing.
Don: Lee Child with his Jack Reacher series. They are fast-paced action with just the right amount of description.
What's on your reading list right now?
Steph: I just finished Hugh Howey's dystopian series, Wool et al.
Don: The next Lee Child novel.
When you're not writing, what do you enjoy doing?
Steph: Participating in our church's book club and playing Cities and Knights, a highly competitive board game in which three friends and I do dastardly deeds to each other, scream, foam at the mouth, and kiss and make up afterwards. Very cathartic.
Don: Playing Bridge on the computer, watching a variety of series on Netflix with Steph, and a ministry in which I pray over the phone with 130 people who are leading Bible studies.
I'd love to be a little mouse in the corner while you're playing Cities & Knights! Sounds like fun!
And the most important question: milk chocolate, dark chocolate, white chocolate, or no chocolate? 🙂
Steph: Oooo, milk chocolate—it comes in so many delicious varieties, I can't get through them all in a month!
Don: Dark, without question.
Thanks again for coming by, Don & Steph! Have I said I'm excited for you?! 😀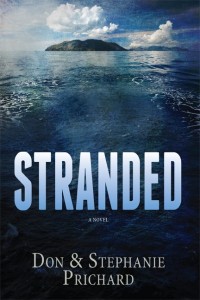 About Stranded~
All Marine Corps reservist Jake Chalmers wants is to give his dying wife a last, romantic cruise to the Philippines. Unable to save her in a mass murder aboard ship, he washes ashore a jungle island, where he discovers three other survivors. Heartbroken that he failed to save his wife, he is determined not to fail these helpless castaways.
Federal prosecutor Eve Eriksson rescues a young girl and her elderly great-aunt from the same ship. They badly need Jake's survival skills, but why is he so maddeningly careful? She needs to hurry home to nail a significant career trial. And, please, before Jake learns her secret that she's responsible for his wife's death.
Purchase Stranded >here< (Go right now! It's only $2.99! We'll wait …) Got it? Okay, great! Now, where were we …? Oh, yes…
Get in Touch with Don & Stephanie~