I woke up this morning to learn I'm traveling all over the blogosphere today! I'd love it if you'd travel with me!
My friend and critique partner, Shannon Taylor Vannatter, invited me to her romance blog (Inkslinger) to share real-life romance. So I talk about how my husband and I met (not terribly romantic!). But then I share how my hero and heroine from Pieces of Granite met. And I cap off the post with a recipe for romance (if you consider chocolate and peanut butter romantic, which I certainly do!) And, I can't forget, I'm giving away an ebook copy of PIECES OF GRANITE too!
https://shannonvannatter.com/brenda-s-anderson-real-life-romance-character-romance-recipe-for-romance-part-1-of-1/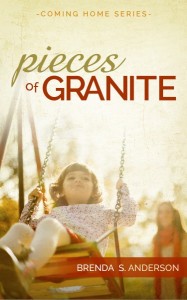 Author / Blogger Sarah Ruut has a very thoughtful review of Pieces of Granite on her blog today. I love her summation: "[Chain of Mercy and Pieces of Granite are well-written books which dig into some gritty issues without being "preachy." You'll walk away reminded that God is indeed good, all the time — even when life is hard."
https://sarahruut.com/2014/11/21/review-pieces-of-granite-by-brenda-anderson/
And, for the past two weeks at Inkspirational Messages, we've been talking about prayer, so today I share songs of prayer that have impacted me.
https://inkspirationalmessages.com/songs-of-prayer/
What prayer songs mean a lot to you?