Yes, another eclectic reading list! I do enjoy variety. How about you?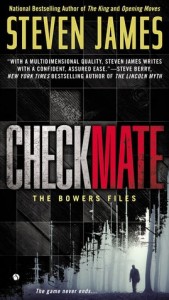 CHECKMATE
(The Bowers Files)
by Steven James
Penguin Group
When a clandestine FBI facility is attacked, Special Agent Patrick Bowers is drawn into the vicious, ruthless story that a killer from his past is bent on telling the world.

Clues lead to long-forgotten secrets buried deep beneath Uptown Charlotte, North Carolina. Now Bowers is caught up in trying to stop one of the deadliest attacks ever planned on American soil.

Smart, tense, and full of mind-bending twists and turns, Checkmate explodes onto the scene, bringing this cycle of the Bowers Files to an unforgettable conclusion.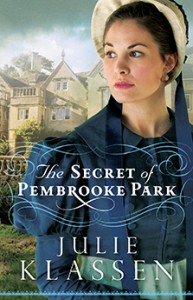 THE SECRET OF PEMBROOKE PARK
by Julie Klassen
Bethany House
Abigail Foster is the practical daughter. She fears she will end up a spinster, especially as she has little dowry, and the one man she thought might marry her seems to have fallen for her younger, prettier sister.

Facing financial ruin, Abigail and her father search for more affordable lodgings, until a strange solicitor arrives with an astounding offer: the use of a distant manor house abandoned for eighteen years. The Fosters journey to imposing Pembrooke Park and are startled to find it entombed as it was abruptly left: tea cups encrusted with dry tea, moth-eaten clothes in wardrobes, a doll's house left mid-play…

The handsome local curate welcomes them, but though he and his family seem acquainted with the manor's past, the only information they offer is a stern warning: Beware trespassers drawn by rumors that Pembrooke Park contains a secret room filled with treasure.

This catches Abigail's attention. Hoping to restore her family's finances–and her dowry–Abigail looks for this supposed treasure. But eerie sounds at night and footprints in the dust reveal she isn't the only one secretly searching the house.

Then Abigail begins receiving anonymous letters, containing clues about the hidden room and startling discoveries about the past.

As old friends and new foes come calling at Pembrooke Park, secrets come to light. Will Abigail find the treasure and love she seeks…or very real danger?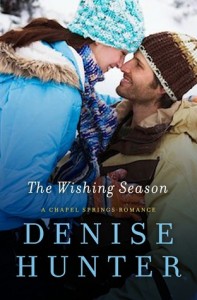 THE WISHING SEASON
(A Chapel Springs Romance, Book 3)
by Denise Hunter
Thomas Nelson
Living side-by-side, a fledgling chef and a big-hearted contractor find a delicious attraction.
Trouble is, their chemistry could spoil their dreams.
Spirited PJ McKinley has the touch when it comes to food. Her dream of opening her own restaurant is just one building short of reality. So when a Chapel Springs resident offers her beloved ancestral home to the applicant with the best plan for the house, PJ believes it's a contest she was meant to win.

Contractor Cole Evans is confident, professional, and swoon-worthy—but this former foster kid knows his life could have turned out very differently. When Cole discovers the contest, he believes his home for foster kids in transition has found its saving grace. All he has to do is convince the owner that an out-of-towner with a not-for-profit enterprise is good for the community.

But when the eccentric philanthropist sees PJ and Cole's proposals, she makes an unexpected decision: the pair will share the house for a year to show what their ideas are made of. Now, with Cole and the foster kids upstairs and PJ and the restaurant below, day-to-day life has turned into out-and-out competition—with some seriously flirtatious hallway encounters on the side. Turns out in this competition, it's not just the house on the line, it's their hearts.