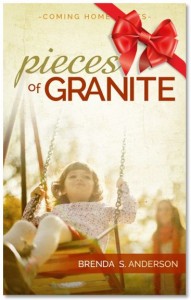 Yeah! Pieces of Granite is finally available in paperback! Just in time for Christmas! Only $13.29 on Amazon!
Other News:
I'm visiting Miranda Uyeh's To Be A Person blog today. She asks some unique and fun questions. Would love for you to stop by!
https://mautobeaperson.com/2014/12/05/author-scoop-chatting-moments-with-brenda-s-anderson/
Plus, today's my blogging day at Inkspirational Messages. We've been talking about hobbies for the past two weeks, and today I share a former hobby that I've ignored too long.
https://inkspirationalmessages.com/party-wrap-up/
And finally, just to pique your interest, I'm planning an ebook sale for Pieces of Granite for the remainder of December. More details coming soon…