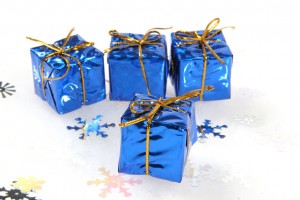 Need a few last minute gifts? Well, I can't think of anything better than a book, so today and Thursday, I'm tossing out a few ideas, a little of something for everyone on your Christmas list. The books on today's list are all written by friends and, as you can see, I have diverse friends. 🙂
Stop back this Thursday for more Christmas gift ideas!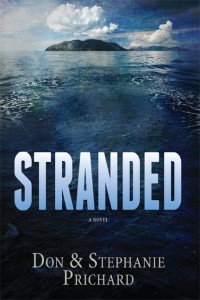 STRANDED
by Don & Stephanie Prichard
First they had to survive the island … then each other … then their rescuer.

All Marine Corps reservist Jake Chalmers wants is to give his dying wife a last, romantic cruise to the Philippines. Unable to save her in a mass murder aboard ship, he washes ashore a jungle island, where he discovers three other survivors. Heartbroken that he failed to save his wife, he is determined not to fail these helpless castaways.

Federal prosecutor Eve Eriksson rescues a young girl and her elderly great-aunt from the same ship. They badly need Jake's survival skills, but why is he so maddeningly careful? She needs to hurry home to nail a significant career trial. And, please, before Jake learns her secret that she's responsible for his wife's death.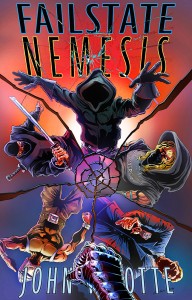 FAILSTATE: NEMESIS
by John W. Otte
Abaddon will destroy you all!

Robin Laughlin (a.k.a. the superhero Failstate) has finally achieved his dream. Not only is he a licensed vigilante, but he's respected by his fellow heroes, feared by criminals, and he's finally achieved peace in his family, especially with his brother, Ben (a.k.a. the superhero Gauntlet). That, plus the love of his girlfriend, Charlene, has made life good.

But then Failstate learns a secret about his father. Rather than the loving family man he remembers, Failstate's father was a criminal who got himself killed when he crossed the wrong people. Before he can process this new information, he receives a warning that a villain named Abaddon is coming to New Chayton. The message is all the more disturbing since it's delivered by Lux. She died in Failstate's arms a year earlier. How can she possibly be alive?

Those mysteries will have to wait, though, as Abaddon storms New Chayton, strewing death and destruction in his wake. But he's not the only newcomer. Unusual heroes are appearing throughout the city.

Can Failstate get to the bottom of the reappearance of Lux, the influx of new heroes, and the truth behind his father's past–all while keeping Abaddon at bay? Abaddon may prove to be Failstate's greatest nemesis. But what will Failstate have to sacrifice along the way?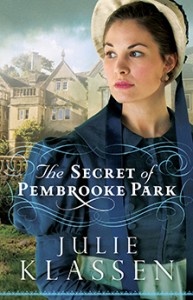 THE SECRET OF PEMBROOKE PARK
by Julie Klassen
Abigail Foster is the practical daughter. She fears she will end up a spinster, especially as she has little dowry, and the one man she thought might marry her seems to have fallen for her younger, prettier sister.

Facing financial ruin, Abigail and her father search for more affordable lodgings, until a strange solicitor arrives with an astounding offer: the use of a distant manor house abandoned for eighteen years. The Fosters journey to imposing Pembrooke Park and are startled to find it entombed as it was abruptly left: tea cups encrusted with dry tea, moth-eaten clothes in wardrobes, a doll's house left mid-play…

The handsome local curate welcomes them, but though he and his family seem acquainted with the manor's past, the only information they offer is a stern warning: Beware trespassers drawn by rumors that Pembrooke Park contains a secret room filled with treasure.

This catches Abigail's attention. Hoping to restore her family's finances–and her dowry–Abigail looks for this supposed treasure. But eerie sounds at night and footprints in the dust reveal she isn't the only one secretly searching the house.

Then Abigail begins receiving anonymous letters, containing clues about the hidden room and startling discoveries about the past.

As old friends and new foes come calling at Pembrooke Park, secrets come to light. Will Abigail find the treasure and love she seeks…or very real danger?