I'm blessed to be part of a blog (Inkspirational Messages) with 10 sensational authors, and I'd be remiss if I didn't suggest you add them to your Christmas list. Check out these 2014 releases from the Inkspers: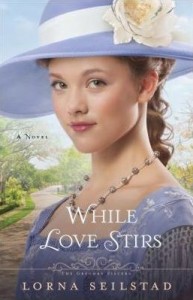 WHILE LOVE STIRS
(The Gregory Sisters, Book #2)
Lorna Seilstad
(Revell)
After graduating from Fannie Farmer's School of Cookery in 1910, Charlotte Gregory is ready to stir things up. She is thrilled to have the opportunity to travel, lecture, and give cooking demonstrations on the very latest kitchen revolution–the gas stove–and certainly doesn't mind that the gas company has hired the handsome Lewis Mathis to perform at her lectures. Lewis encourages her work, especially her crusade to introduce fresh, appetizing, nutritious food to those convalescing in hospitals. But young hospital superintendent Dr. Joel Brooks is not convinced any changes should be made–especially by this outspoken young woman.

When Charlotte and Joel are coerced into planning a fund-raising gala for the hospital, will this combustible pair explode?

Fan favorite Lorna Seilstad is back with a breezy, lighthearted love triangle that will keep readers guessing. Attention to historic detail adorns the timeless story of a young woman looking for true love and making her way in a rapidly changing world.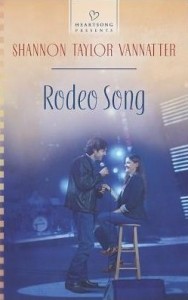 RODEO SONG
Shannon Taylor Vannatter
(Heartsong Presents)
But when silken-voiced Garrett Steele set out for stardom, he left Jenna—and his cowboy past—far behind. A chance encounter at one of his concerts propels him back into Jenna's life. But, once burned by love, Jenna must guard her heart against the captivating singer.

Once upon a time, Garrett vowed he'd be a success, no matter what. But that path shattered his soul. His reunion with Jenna makes him long for things he once took for granted. Now he must show her that he's found what he was looking for all along…right here in his hometown.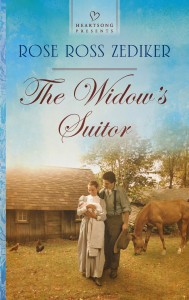 THE WIDOW'S SUITOR
Rose Ross Zediker
(Heartsong Presents)
Cora Anderson isn't looking for love

The young widow is just trying to make a life on the prairie for herself and her newborn son. When handsome newcomer Luke Dow shows up at her cabin door, she soon relies on the man's help with her homestead…and dares to dream of the future.

Luke came to the small South Dakota town to build a hotel and make his fortune. But he never expected to care for anyone, let alone the beautiful Cora and her baby boy. When Cora's land claim is challenged by a neighbor, Luke will do all he can to protect her and her home—and claim her heart.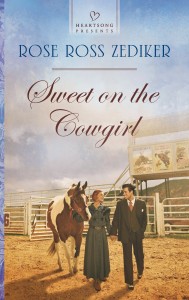 SWEET ON THE COWGIRL
Rose Ross Zediker
(Heartsong Presents)
Laura Barnes Wants to Be a Cowgirl

Laura has always dreamed of being a trick rider in her family's Wild West show. But her father will only allow her to perform if she disguises herself as Mr. Buckskin Jones. When soda-pop king Guy Roberts shows up to do business with her family, Laura is torn between keeping her identity under wraps and revealing her growing feelings for Guy.

Guy is drawn to Laura's poise and beauty, but he, too, guards a secret. As their affection for each other grows, Guy begins to think about a future that includes Laura. When both their secrets suddenly come to light, their romance will face the ultimate showdown.
And, of course, I can't forget my books:
PIECES OF GRANITE
Coming Home Series Prequel
CHAIN OF MERCY
Coming Home Series Book 1