I love New Year's Eve! Not because I'm eager to wave goodbye to the past year or say hello to a brand new year, but because it's become a fun day to spend with my family, a day to create lasting memories.
For several years now we've selected a movie theme for the day and spend many hours watching while munching popcorn and nachos and all sorts of calorie-laden foods (so we can start our diet and exercise regimen the next day). In the past, we've had an Avengers marathon, a Lord of the Rings marathon, Pixar, Toy Story and more. Yesterday we watched the three Narnia movies consecutively. How fun to see the Pevensie kids grew up before our eyes!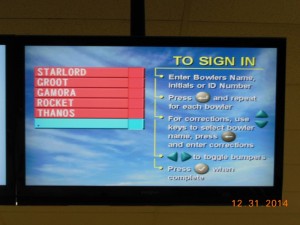 But before starting the movies, we celebrated by bowling two games at Ham Lake Lanes. They have an amazing deal for families. For just $10 a person, you bowl for two hours and dine on all-you-can-eat pizza and pop. They also provide noisemakers for an early celebration and offer giveaways throughout the evening. To add a little more interest, we always sign in with different names. This year we were Guardians of the Galaxy characters. I was Groot–or to put it in GOTG vernacular, "I am Groot."
The fact that our kids (22, 20, & 18) still enjoy spending time with their parents on New Year's Eve means a lot, and we'll take advantage of that for as long as we can.
How did you bring in the New Year?